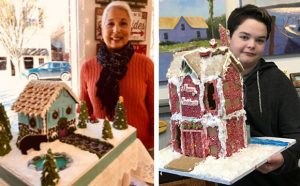 Classes Oct. 7 & 16, Entry Deadline November 11th  for
New Bern Historical Society Event
NEW BERN, NC – We have arrived at the time of year for pumpkin spice lattes and back-to-school.  That means it is time to think Gingerbread! The New Bern Historical Society invites you to fire up your imagination and prepare for the Third Annual Gingerbread House Contest and Display.  For the past two years, gingerbread houses scattered in windows throughout the downtown area have delighted the shopping crowds. Displays made by all kinds of folks from children's groups to professional bakers have enlivened the holiday season and added to the Beary Merry fun. The New Bern Historical Society is pleased to do it again this year. Everyone is invited to make their own gingerbread creation and enter it in the contest. Don't delay, the deadline to enter is November 11, 2019. Completed houses will be displayed at selected downtown merchants November 24-December 20.
There will be four categories for contestants:  Youth (up to 14), Adults, (age 15 and up), Family (a combination of Youth and Adults) and Professionals (bakers, chefs, caterers, cooks, professional engineers, artists etc.)  People can enter as a group, or as an individual. There will be cash prizes up to $150 and all who enter will receive a hand-crafted pottery ornament. In addition to an award in each category, there will be a $200 prize to the entry that best reflects the "Historic New Bern Christmas" theme. That award, the Nancy Chiles Heritage Award, is named in honor of long time Board member and Gingerbread supporter, Nancy Chiles.  There is also a People's Choice Award.  The public will be asked to vote on their favorite, and the prize will go to the entry with the most public support. The deadline to enter is November 11th.  Information and entry forms are found at GingerbreadNewBern.com.
For those who need some extra help getting started, this year the Craven Community College Adult Enrichment Program will offer a class, Introduction to Gingerbread House Building. This beginners level class will give the students all the knowledge they need to create their own gingerbread house.  The class will be offered twice, on October 7 at 10am and again on October 16 at 6:30pm. It is taught by master baker Rita DeSanno.  To register or for more information go to https://cravencc.edu/aep/kitchen-cuisine/#ginger
Historical Society Executive Director Mickey Miller is excited to see this event continue.  "Downtown New Bern during the holidays is a magical place to visit.  As we recall holiday traditions of the past, we hope that the sight of colorful and creative gingerbread houses in downtown business windows will connect the past with the present."
The Historical Society is hoping for participation from throughout the community and is reaching out to schools, churches and organizations, local restaurants, caterers, and adult groups to encourage all ages to take part. Find information at www.GingerbreadNewBern.com  or follow our Facebook Group, Gingerbread New Bern!
The mission of the New Bern Historical Society is to celebrate and promote New Bern and its heritage through events and education.  Offices are located in the historic Attmore-Oliver House at 511 Broad Street in New Bern.  For more information, call 252-638-8558 or go www.NewBernHistorical.org or www.facebook.com/NewBernHistoricalSociety.
Submitted by: Kathy Morrison, New Bern Historical Society