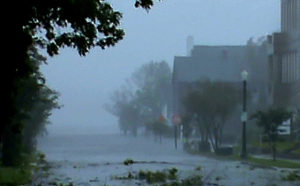 Hurricane Dorian's path is unknown during the time of writing this. As of 12 p.m., September 2, it's a Category 4 moving at 1 mph outside the Bahamas. It looks like it's heading towards the East Coast of Florida, but there's a lot of unknowns. According to The Weather Channel, Dorian's projected path has it passing over the North Carolina coast by Thursday/Friday with wind speeds up to 100 mps.
If you live in New Bern or Eastern North Carolina, you may be "hurricane shy" from last September when Hurricane Florence clobbered our community. I had a sick feeling and decided to leave four days prior to landfall. This was the first time I evacuated since moving here in 2005.
The storm made landfall as a Category 1 on September 14th, 2018, in Wrightsville Beach, NC. Two days later, my house (not in a flood zone) was surrounded by two feet of water.
I'm so glad that I evacuated. I'm very thankful that I had a home to return to. There are so many people who lost their homes and others who are currently rebuilding. My heart goes out to you.
I was very fortunate as I only had water damage in the garage and roof damage from the winds. After re-mediating the mold and replacing the roof, it's time to consider evacuating again.
According to the National Weather Service and NOAA, "Even if your community is not directly affected by storm surge, it could experience other hazards from the storm and face dangerous conditions such as impassable roads, water and sewage problems, and power outages. If power remains on, downed electrical wires can pose an electrocution risk."
Things to consider before you make plans to evacuate:
– Consider the possibility of Storm Surge. Please read this "Storm Surge Can Be Deadly" by the National Weather Service.
– Make the decision and find a place to stay before it's too late.
– If you wait until the last minute, you will get stuck in bumper to bumper traffic along with other evacuees. Gas stations will run out of gas. You may be stuck with no place to go as hotels book up fast.
– If you have the means to evacuate and a mandatory evacuation order has been issued; but you decide to stay and end up having to be rescued – you're putting the lives of first responders in jeopardy.
I pray that Dorian heads out to sea. If it doesn't, I hope everyone stays safe!
Wendy Card