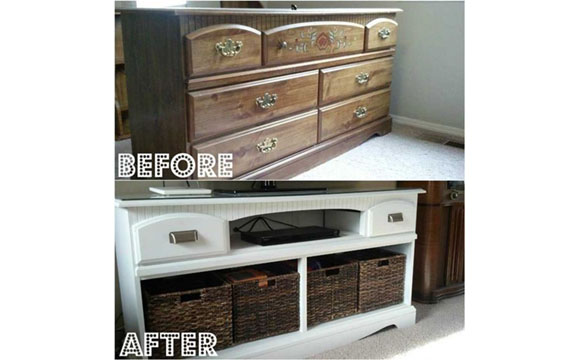 The ReStore at Habitat for Humanity of Craven County invites any DIY fans to join in a unique "Shabby to Chic" event. Show your creativity and support Habitat at the same time!
"Our ReStore receives a wonderful variety of donated items although sometimes a little TLC may be needed to spruce them up a bit. We're inviting folks who love a DIY project to come in to pick out something they can transform into something special with a little imagination and creativity," explained Evelyn Richards, the ReStore Manager. "The item selected will be offered at no cost to any DIY participant and needs to be returned to us in time for our "Shabby to Chic" fundraiser event on November 15th at the ReStore" said Richards.
Anyone interested in participating can stop at the ReStore to pick out their item between September 30th.
and October 11th during store hours: Tuesday through Saturday, 9:00 a.m. to 5:00 p.m. All finished items must be returned to the ReStore by November 1st in time for promotion of the fundraising event on November 15th.
"Revenue from the ReStore is a major source of funding for Habitat for Humanity to build affordable homes in Craven County," said Mike Williams, the affiliate's Executive Director. "The cycle of community support of our retail enterprise, whether it's from a donated item to a purchase, helps offset our operations expenses so we don't have to raise funds just to keep our lights on and purchase office supplies. If it weren't for the ReStore, we wouldn't be able to build new homes, repair hurricane damaged homes, or offer some of our other programs," said Williams.
The offices of Habitat for Humanity of Craven County and the ReStore are located at 930 Pollock Street in New Bern. Anyone interested in learning more about the "Shabby to Chic" event is encouraged to call the ReStore Manager, Evelyn Richards at 252-633-5512 for further information.
Submitted by: Deedra Durocher, Volunteer & Resource Coordinator, Habitat for Humanity of Craven County