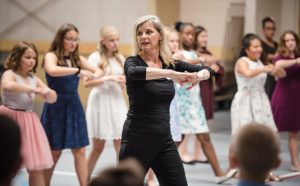 Social Etiquette Program in the Works for Middle School Students
Cotillion, a well-known "coming of age" tradition, has made its way to the doors of Saint Paul Catholic School in New Bern. The program has been made possible due to a generous donation from Saint Paul parishioner Judy Williams. Both Williams and the school principal, Dave Kierski, have high hopes for what the program might bring to the school.
Cotillion consists of a season of etiquette classes tailored to middle-school aged adolescents. The program concludes with a formal dinner and dance in which participants have the opportunity to showcase what they have learned. When asked how he hoped the program would benefit students, Principal Kierski stated "​We expect the Cotillion program to build confidence in our students by helping them develop and practice social etiquette in a safe environment."
Saint Paul Catholic School is a ministry of Saint Paul Parish. It is dedicated to the spiritual, intellectual, physical, and social development of each student. Saint Paul strives to educate the whole child and welcomes students of all faiths.
For more information, please contact Principal Dave Kierski at 252-633-0100.
Submitted by: Bob Mackowski, Marketing Coordinator, Saint Paul Catholic School