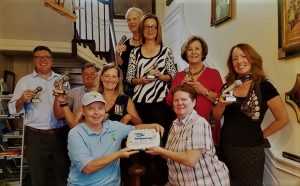 We started podcasting in 2012. Laura Johnson and I would travel around town with our computer and mixer to interview local non-profits and businesses.
After recording and editing the audio, we took 3 – 5 minute snippets and aired them as "Community Segments" on WNOS 103.9FM and 1450AM and were published on NewBernNow.com and our Libsyn Channel.
The Podsquad was created In 2014, when Rich Sheridan, Owner of the Discovery Map of the Crystal Coast; Susan Moffat-Thomas, former Director of Swiss Bear Downtown Development Corporation; Lisa Bisbee-Lentz, Artist and Owner of the Greater Good Gallery in the Isaac Taylor House and Gardens; joined Laura and I to record/edit 30 – 45 minute episodes that aired on WNOS 103.9FM and 1450AM and were published on NewBernNow.com and our Libsyn Channel and iTunes.
The Podsquad grew to include George Oliver of The Law Offices of Oliver & Cheek; Jane Maulucci, The Reactive Voice; Tracey Stones of NCMZ.live and Tracey Stones Productions; Jeremy LeRay of New Bern Web Design; and Dona Baker of Masterful Dog Training.
In 2018, Charles Tendell with New Bern Live invited us to join him at his studio in the O'Marks Building and actually "go live" on Youtube and Facebook. I'm very grateful. Charles's willingness to "streamline" the show, saved me at least 20 + hours of editing to trim it down to a 1 hour show to air on the radio every other week on New Bern Now, New Bern Live, iTunes, Libsyn, and numerous other Internet channels.. He opened my mind to "going live" and allowed me to spend the 40 + hours a month to focus on NBN's magazine and website,
Although "going live" increased our viewers, I've missed getting out in the community and meeting/highlighting locals! That was my intention from the beginning.
With the encouragement of faithful listeners…and viewers, The Podsquad and I have decided to take the show back on the road!
Although I'm not a technical expert like Charles, I purchased live streaming hardware to "go live" and will still make the podcast available to listeners on the radio and on numerous outlets online 24/7.
I did a "test drive" last night on New Bern Now's Facebook to see how the live streaming worked!
We're gonna give it a try!
We don't have plans on leaving New Bern Live and The Charles Tendell Studio.
We started out podcasting to showcase local businesses and non-profits and we believe that we're at the point where we can take the show on the road to include the live streaming for people who want to watch it live.
If things work out as planned, we hope to visit your "neck of the woods"!
What do you think?
Please share your comments, suggestions, or questions with us by sending us an email or calling 252-259-6853.
Thank you!
Wendy Card