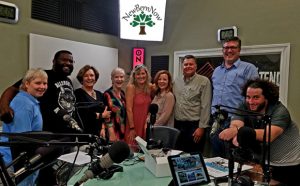 We've been thinking about taking New Bern Now and Beyond's Podcast on the road for a couple of years now.
We started recording in the Isaac Taylor House in 2014, thanks to Lisa Bisbee-Lentz and Mike Lentz.
Last year, we relocated and went live in the Charles Tendell Studio on New Bern Live (located in the O'Marks Building). We still plan on working with Charles and New Bern Live, but we really want to know what you think.
Would you like to see us "Go Live" in different locations throughout the greater New Bern area?
Why change things up?
Since 2009, our goal has always been to highlight the people, places, and latest happening in and around Town.
By taking the show on the road, we can come to your business or non-profit; retirement community; subdivision; or local park! The opportunities are endless.
We care about our community and we want to connect you with the people and places of our Town.
The podcast with show notes will continue to be published on NewBernNow.com and it will air on WNOS 103.9FM and 1450AM every Wednesday at 8 a.m. and 5.p.m.
We will also have up to 4 special guests as we've done in the past.
We would love to hear what you think!
Please send us an email at or call 252-259-6853.
Wendy Card