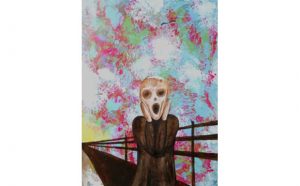 Exhibition to highlight therapeutic abilities of art
August 6 – August 30, 2019
Craven Arts Council is proud to present "Survivor Knights" in the Director's Gallery at Bank of the Arts for the month of August. Survivor Knights is a collection of artists in a variety of mediums utilizing the healing nature of art and community to work through traumatic experiences. Craven Arts will host an opening reception during the downtown New Bern ArtWalk on August 9th from 5pm to 8pm.
Art therapy is defined as "a modality for self-understanding, emotional change and personal growth." Survivor Knights is a local organization of artists working together to foster a community of arts and arts appreciation that allows them to work through abuse or medical conditions. The exhibition will feature works in a variety of mediums along with spoken word poetry by members of the organization. Artists and supporters interested in learning more about the organization are invited to attend the opening reception or find Survivor Knights on Facebook.
Admission to all galleries at Bank of the Arts is free and open to the public Tuesday through Saturday from 10 a.m. to 5 p.m.
For more information please contact Jonathan Burger, Marketing and Gallery Director, Craven Arts Council & Gallery, Inc. at the Bank of the Arts, 317 Middle St., New Bern, 252-638-2577
Submitted by: Jonathan Burger