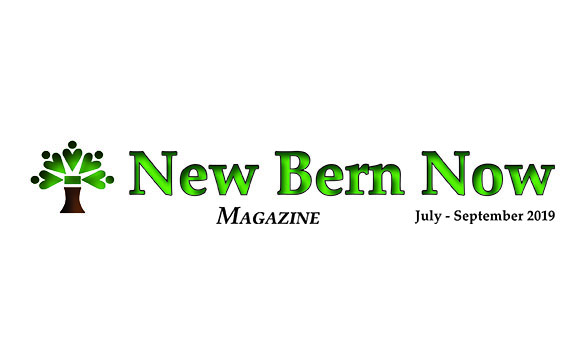 As we celebrate our 10-year Anniversary, as an independent community news and information source, we want to thank everyone who has been a part of making New Bern Now a successful local online news and information website, community magazine, and local podcast and radio show.
In 2009, some people expressed their apprehension and thought I was "wasting my time" when I told them I wanted to create a website to promote the people, businesses, non-profits, places, and latest happenings in New Bern…for free. They truly believed there was a catch. The catch: me caring about their survival. Businesses and non-profits were apprehensive when I asked them if I could interview them as they believed that "nothing was free". It took close to three years to break that invisible wall for some people to trust me and take me at my word.
It really made me sad when I met business owners who were struggling from the Great Recession of 2008. All that mattered to me was helping them promote their efforts and keep their businesses alive.
As a retired Navy Hospital Corpsman, I didn't have any experience in journalism, publishing, or website and graphic design. But I did have a mission. I've made a lot of mistakes, but I learned from every one of them. I'm constantly researching and looking for ways to improve New Bern Now (NBN). If it wasn't for readers and friends who believed in what I was doing and suggested ways to improve it, I would have given up a long time ago.
Since 2009, I haven't wavered on my commitment. We've actually expanded by bringing people together to learn during our social media summits, Mayoral Runofff, Earth Day Event, and engaged with all walks of life during community BBQs. We're not "in it for the money" as we only charged a fee to cover lunch during the social media summits.
I've spent thousand of dollars of my personal money printing the first few magazines. Honestly, I believed that it was very important to share the information that I learned about New Bern and I really never thought about a business plan until 2012. Like so many fledgling entrepreneurs, I believed that, "If I build it, they would come"…and they did. The problem, I didn't have a plan, I was "winging it". I spent countless hours recording and editing videos and audios, researching and conducting personal interviews, writing, and engaging and monitoring social media.
Thankfully, Advertisers believed in what I was doing and contacted me. To date, I've never paid myself as I believed that I had a retirement check from the Navy and healthcare. I was very fortunate. My goal was to give back what I've learned to our community in hopes to "inform, educate, entertain, and engage".  I live a modest life and have never had an ulterior motive.
Fast forward 10 years – I was having a hard time keeping up with all of the moving parts and reached out to our readers for advice. Last quarter, we had a focus group on how NBN could do a better job relaying information and generating income to remain sustainable when other independent local media sources and newspapers are failing across the country.
My goal was to generate enough money to pay an employee to take the work load off so I could take a day off. The last time I went out of town was for my Mother's Funeral last year….so, it wasn't a vacation.
We are making some changes to the magazine that some business owners may feel unfair as their listings will be removed for the July – September Magazine. Not because we don't want to feature them, we need to free up space as printing costs are increasing. I know I'll receive backlash when they don't see their name listed as they've become accustomed to the free listing that we've given them over the past 10 years.
Note: If you're a business that I'm talking about, you know who you are and you could remain in the magazine for the low cost of $180 per year. This cost will increase to $200 for the Oct – Dec issue. Besides a listing with a link to your page in the Magazine, there are other benefits included in this nominal fee. We have analytics to back up our claims and would be happy to share them with you. This is separate from advertising.
Our Advertisers receive exposure not only in the Magazine (online and print editions), but on our website, podcast and broadcast radio show, and social media sites at nominal feeds that don't compare to any media source in the greater New Bern area. Ads start at $150 per quarter.
We are in the process of re-branding our website and magazine and it costs money. If you are a business that we've supported at no cost over the years, we hope that you'll give Tracey Stones, our Marketing and Advertising Director a call at 318-789-6928 or send her an email to guarantee you'll be included in New Bern Now's upcoming Magazine (July – September 2019).
Lastly, please be wary of who you're paying and what your actual return on investment (ROI) is. It's important to ask them to provide analytics. Do you know what you're paying for? Do they have a website and if so, are you featured on it?
Find out how we can help set your business apart from your competitors and become part of a "community brand" that promotes the people, places, and great happenings in and around New Bern!
If you're a reader and would like to support our efforts, we would truly appreciate any contribution you'd like to make if you believe in what we're doing. Here's our PayPal account if you're so inclined:
Lastly, we would like to thank everyone who has personally taken the time to mentor, guide, and support our efforts by featuring them on the cover of our July – September Magazine. We will be contacting you within the next couple of days.
Let us know if you have any questions, comments or suggestions by calling 252-259-6853 or sending us an email.
Wendy Card