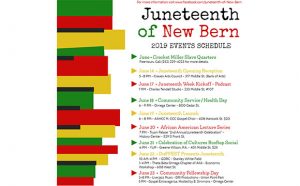 Uptown and Downtown New Bern, NC 6/17/19 – 6/23/19
#ProjectRestore and various community co-facilitators are proud to present "Juneteenth of New Bern" in numerous locations throughout uptown and downtown New Bern for more than a week during the month of June. With last year's resurgence of Juneteenth in New Bern and Craven County, this year is shaping up to be a wonderful week of cultural celebration, with the goal of achieving a larger collaborative efforts to pool time, talent, energy, and resources around multiple diverse events for a bigger impact and the benefit of the greater good. Craven Arts Council will host an opening reception during the downtown New Bern Artwalk, June 14th, from 5 – 8 p.m, as one of the first events of Juneteenth, followed by a podcast at the Charles Tendell Studio to kick-off the more robust week on Monday, June 17th at 8 p.m., a lecture from a Buffalo, NY historian at the Tryon Palace History Center on Thursday, June 20th at 7 p.m., and DuFFest making a surprising debut on Saturday, June 22nd from 10 a.m. – 2 p.m. instead of its usual appearance in May. It is the goal of #ProjectRestore to continue organizing and developing events under the Juneteenth of New Bern umbrella to create a diverse and inclusive celebration that all generations can enjoy, and that tourists want to come (home) to New Bern to experience.
Juneteenth is the oldest known observance of the ending of slavery in the United States.
Celebrations today commemorate that memorable day in 1865 Texas and emphasize the achievement of African Americans. Marked by community celebrations, guest speakers, picnics, and family gatherings, it is a time for reflection and rejoicing, for self-assessment and planning and future.
"The celebration of Juneteenth is not only a showcase event of the African American community's positive contributions to the American way of life, but it also makes a statement for all Americans that the Unitet States is truly the 'Land of the Free', says Regina D. Greene.
"Juneteenth is an expression and extension of American freedom and, like the Fourth of July, a time for all Americans to celebrate our independence, human rights, civil rights and freedom."
2019 Juneteenth Celebration of New Bern schedule is as follows:
*Month of June – The Crocket Miller Slave Quarters Museum Park is available for free tours in celebration of Juneteenth, per Ben Alden Watford. Call 252-229-4223 for more details.
*Fri. June 14th, 5 – 8 p.m. – Juneteenth Opening Reception – Craven Arts Council's Bank of the Arts, 317 Middle St. during Artwalk
Mon. June 17th, 7 p.m. – Juneteenth Week Kickoff – Podcast – Charles Tendell Studio
Tues. June 18th, 6 – 9 p.m. – Community Service/Health Day – Omega Center
Wed. June 19th, 6 – 8 p.m. – JUNETEENTH Launch of the African American Heritage and Cultural Center – AAHCC ft. CCC Gospel Choir, 408 Hancock St. $20
Thurs. June 20th, 7 p.m. – Tryon Palace "2nd Annual Juneteenth Celebration" African American Lecture Series at the North Carolina History Center
Fri. June 21st, 6 – 9 p.m. – Y.U.P. Annual Rooftop Social (Celebration of Cultures), 401 Middle St. $25
Sat. June 22nd
10 a.m. – 4 p.m. – DuFFest Presents Juneteenth – GDRC – Stanley White Field
1 – 4 p.m. – Theta Beta Omega Chapter of AKA – Economic Workshop, 608 West St.
Sun. June 23rd – Community Fellowship Day
2 – 8 p.m. – Live Music – DRI Productions – Union Point Park
5 p.m. – Gospel Extravaganza, Hosted by B. Simmons – Omega Center
Submitted by: Talina L. Massey, Founder, #ProjectRestore and Chair, Young Urban Professionals – Eastern NC