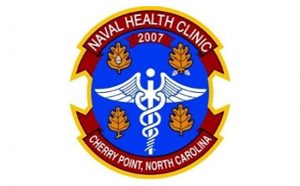 Your Gateway to Better Health
CHERRY POINT, N.C. – Captain Douglas Stephens, U.S. Navy, Medical Service Corp, assumed command of Naval Health Clinic Cherry Point on Friday, May 17 during a routine Change of Command ceremony held onboard Marine Corps Air Station Cherry Point.
Stephens, whose previous assignment was as executive officer, United States Naval Hospital Naples, Italy, will relieve Captain Jay Woelkers, the commanding officer since August 2017. Woelkers will assume command of the Navy Medicine Readiness and Training Command at Bethesda.
Stephens enlisted in the Navy in 1984 and completed boot camp and Basic Hospital Corpsman "A" School in 1985. His enlisted assignments included Naval Hospital, Newport, R.I., USS SAMPSON (DDG-10), Naval Hospital Beaufort, S.C., and Naval Medical Center San Diego, Calif.
He is a 1993 Distinguished Graduate of San Diego State University and is also a 1997 graduate of the University of San Diego where he earned a Masters Business Administration (Healthcare Administration) degree. In 1996, he was commissioned into the Medical Service Corps.
His first tour of duty as an officer was at U.S, Naval Hospital Okinawa, Japan as the Assistant Department Head of the Material Management Department and Department Head for the Operating Management Department. He briefly deployed with USS BELLEAU WOOD (LHA-3) as Medical Administrative Officer.
From 2000-2003, he served as the Medical Administration, Radiation Health Officer, and Division Officer in USS CARL VINSON (CVN-70) where the Medical Department participated in the initial phases of Operation ENDURING FREEDOM. From 2003 to 2005, he served as the Individual Augmentation, Hospital Ship, and Casualty Receiving and Treatment Ship Platform Manager for the Bureau of Medicine and Surgery. He also served as the Action Officer deploying personnel to the Joint Prisoners of War, Missing in Action Accounting missions to Vietnam, Cambodia, and Korea. From 2005-2007, he served as the Director for Administration for the 3D Dental Battalion/USNDC Okinawa. From 2007-2010, he served as Director for Administration at the Naval Health Clinic Patuxent River, MD. From August 2010 to June 2013, he became the 8th Officer-in-Charge of the David R. Ray Health Center, Naval Station Everett, Washington. From June 2013 to July 2017, he served as the Deputy Chief of Staff, M1, Manpower /Personnel for Navy Medicine East.
Throughout his career, he has completed deployments and operated in the Second, Third, Fourth, Fifth, and Seventh Fleet areas of responsibilities and participated in operational deployments in support of OCEAN VENTURE, Operation UNITED AMERICAS (UNITAS XXIX), Special Operations Capable Exercise (SOCEX) in USS BELLEAU WOOD (LHA-3), WESTPAC 01, Operations ENDURING FREEDOM, TANDEM THRUST, and Korean Peninsula Operations.
About Naval Health Clinic Cherry Point
Named after Medal of Honor recipient, Pharmacist Mate Second Class William D. Halyburton, the Naval Health Clinic Cherry Point provides high-quality patient care to more than 33,000 active-duty members and DOD beneficiaries. In addition to out-patient surgical services, NHCCP offers Medical Home Port (including family care and pediatrics), Internal Medicine, Orthopedics, Physical Therapy, Mental Health, Pharmacy services, Preventive Medicine, Aviation Medicine and Radiology to include MRIs.
Submitted by: Eric Sesit, Public Affairs Officer, Naval Health Clinic Cherry Point