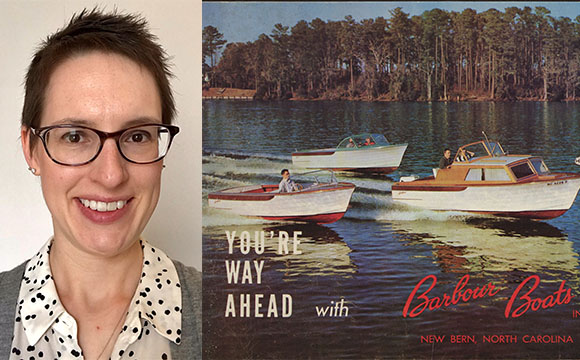 Lindy Cummings at Historical Society Lunch & Learn
New Bern, NC – Join the New Bern Historical Society and Tryon Palace's Research Historian Lindy Cummings for Lunch & Learn on Wednesday, June 12 at 11:30am at the Chelsea Restaurant as she shares the remarkable story of New Bern's Barbour Boats.  From a modest background in Swansboro, master carpenter and shipwright Herbert W. Barbour moved to New Bern and founded a shipyard in 1932 that would eventually employ 1200 workers during World War II. The ingredients of this success story are determination, hard work, and pride. Barbour Boat Works operated on the banks of the Trent River from 1932 until 1997. Always family owned and operated, the boat works built everything from naval vessels during the Second World War to world-class racing hulls and pleasure craft. This talk covers the history of the works as well as the process of researching and developing the Barbour Boats exhibit in the North Carolina History Center Duffy Gallery.
Lindy Cummings holds a Bachelor of Arts and Master of Arts from Indiana University and Miami University of Ohio and has completed additional graduate work at University of Maryland College Park. Originally from Indiana, she and her husband Lance moved to North Carolina in 2014 and made New Bern their home in 2016.
The Historical Society is excited to be hosting this presentation. Executive Director Mickey Miller explains, "So many people are connected to Barbour Boats through family, employment, or simple enjoyment.  We expect this to be another very popular presentation!"
Lunch & Learn starts at 11:30 a.m. at The Chelsea Restaurant, 335 Middle Street, New Bern. The cost is $17 for Historical Society members and $22 for non-members; lunch is included. Advance reservations must be made by calling the New Bern Historical Society at 252-638-8558 or can be ordered at NewBernHistorical.org/tickets. Lunch choices: brown butter barbeque chicken with gourmet macaroni & cheese and mixed vegetable medley or salmon brie pasta. Both are served with rolls, carrot cake, tea and coffee.
The mission of the New Bern Historical Society is to celebrate and promote New Bern and its heritage through events and education.  Offices are located in the historic Attmore-Oliver House at 511 Broad Street in New Bern.  For more information, call 252-638-8558 or visit NewBernHistorical.org or Facebook.com/NewBernHistoricalSociety.
Submitted by: Kathy Morrison, Public Relations, New Bern Historical Society