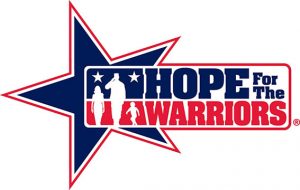 Hope For The Warriors 8th Annual Run For The Warriors, New Bern will take place Saturday, June 29 featuring a 5K and the "1st Mile" and for dogs the Furry 5K and the Mile Mutt Strut.
Opening ceremonies start at 7:30 a.m. and the race starts at 8 a.m. at Union Point Park.
All races are adaptive equipment friendly. Proceeds benefit Hope For The Warriors, a national nonprofit dedicated to restoring a sense of self, family and hope for service members, their families and families of the fallen.
Run For The Warriors is a race series open to civilians and military members, that honors the men and women wounded while serving and celebrates their strength and resolve. The series also provides wounded service members encouragement and the opportunity to pursue the sport of running, walking or adaptive cycling to assist in physical and emotional rehabilitation.
Post 9/11 wounded service members and Gold Star families receiving Hope For The Warriors services all register for free. Discounts are available for active-duty service members, veterans and students. Please email runinfo@hopeforthewarriors.org for discount codes by June 22.
Register by May 31 and receive 15 percent off using the promo code LoveMyPet.
Register by June 10 for a guaranteed run shirt. Dog bandanas are first come first serve.
For more information or to register, visit RunfortheWarriors.org or join us on Facebook or Twitter.
Submitted by: Erin McCloskey