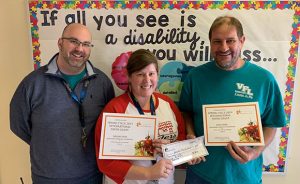 Melanie Ross and Keith Jayne, with Vanceboro Farm Life Elementary, won a Spring Cycle International Paper Grant, administered by PIE, for their program, "Little Chefs in the Making." This program will allow their students to create edible masterpieces each week. Cooking is a life skill and math is an important part of understanding how mixing and measuring ingredients works. Watching the ingredients change form will be a great science tool.
Pictured at the school check presentation are, left to right, Dan Palimetakis, principal at Vanceboro Farm Life Elementary, and grant winners Ms. Ross and Mr. Jayne.
For information on how you or your organization can support Craven County Schools through Partners In Education, contact Darlene Brown at 514-6321 or visit our website at CravenPartners.com.
Submitted by: Darlene Brown, Executive Director, Craven County Partners In Education