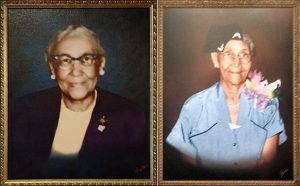 April 12-13 Tour in 5 Historic Neighborhoods
The Rhone sisters, Carrie and Charlotte, two of four African American sisters, spent a lifetime working to serve the community. In the New Bern Historical Society's April 12-13 Heritage Homes Tour, you'll see two locations connecting to their history.  The first, the Isaac Smith House on Johnson Street.  What's the connection?  Isaac Smith, legislator, realtor and philanthropist was married to Carrie Rhone in 1898.  He passed away in 1915.  Following the 1922 fire, Carrie Rhone Smith built the Johnson Street house, known as the Isaac Smith House.
The second connection is the Charlotte Rhone Cultural Center on West Street.  This building was originally the West Street Colored Library, built in 1947 with funds raised in a community effort. It served as a library from 1947 to 1972 for the Black community.  The building is named now for Charlotte S. Rhone, for her work championing the library initiative and her leadership of the Climbers Club, which is the current owner of the building.
The Climbers Club is a service organization founded in 1921 by a group of 9 women including the first President of the group, Carrie Rhone and the third President Charlotte Rhone.
You are invited to join The New Bern Historical Society in a grand celebration of New Bern's enduring beauty and history with a tour of these and 16 more of her remarkable homes and buildings in five historic neighborhoods – Downtown, Dryborough, Riverside, Ghent, and DeGraffenried Park.
Traditional historic homes, restorations in progress, newly completed renovations, and beautiful gardens will all be on display, many for the very first time.  Visitors will be invited to tour the historic properties over the two days, Friday, April 12 and Saturday, April 13.
Guests are invited to take a break during the tour at the Garden Party Pavilion behind the Attmore-Oliver House.  There you'll enjoy refreshments, live music and visit with historic characters – all part of your ticket!  Master gardeners will present a special heritage garden demonstration, and food trucks along the route will offer lunches to help guest maximize their tour schedules.
Tickets, good for both days, are available at New Bern Historical Society office at 511 Broad Street (252-638-8558) and on line at www.NewBernHistorical.org/tickets. They are also available at outlets at Mitchell Hardware on Craven Street, the Bank of the Arts on Middle Street, Harris Teeter on MLK Blvd and in Carolina Colours. Tickets are $20 in advance and $25 the day of the tour, and $15 for active duty military, students, and those in groups of 10 or larger.
Premier Sponsor for Heritage Homes Tour is Neuse River Region Association of Realtors which includes Century 21 Zaytoun-Raines, Neuse Realty, Coldwell Banker Willis-Smith, Trent River Realty and Keller Williams Realty.  Media sponsors are WCTI 12, Public Radio East, the New Bern Sun Journal and Beach, Boogie & Blues.
The mission of the New Bern Historical Society is to celebrate and promote New Bern and its heritage through events and education.  Offices are located in the historic Attmore Oliver House at 511 Broad Street in New Bern.  For more information, call 252-638-8558 or go NewBernHistorical.org or Facebook.com/NewBernHistoricalSociety.
Submitted by: Kathy Morrison on behalf of Mickey Miller, Executive Director, New Bern Historical Society