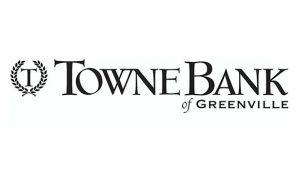 TowneBank will officially open its newest office in North Carolina with a ribbon cutting at 2839 Charles Boulevard in Greenville on Tuesday, March 19, at 5:30 p.m. Among those in attendance will be TowneBank Executive Chairman G. Robert Aston, Jr., Jim Clement, Chairman of the Board of TowneBank of Greenville and President of Towne Insurance Central North Carolina, Greenville Mayor P.J. Connelly, and other civic and business leaders from the local area.
The 4,500 square foot office will be the 41st in Towne's 20-year history and its tenth in North Carolina, joining offices in Camden, Moyock, Nags Head, Corolla, Southern Shores and Grandy, plus three Paragon Bank offices, which are a Division of TowneBank, in Raleigh, Charlotte and Cary. The decision to open a banking office in Greenville comes six years after Towne entered the Eastern North Carolina insurance market by acquiring The Clement Companies. "The outstanding response to the Towne brand in insurance convinced us to bring banking services to this dynamic area of North Carolina," says Aston. "Our new office will open with nine local bankers ready to welcome neighbors from Greenville and the surrounding area with our unique style of hometown banking."
Greg Steele, president, TowneBank of Greenville, along with senior vice president Allen Clayton and senior relationship specialist Katherine Thomas make up the Commercial Banking Team. Senior vice president and Branch Manager, Glenn Marsh, along with member service specialists Brittany Morris, Meredith Bunch, and Meredith Mozingo will provide retail banking services. Rounding out the Greenville team are Anne Cato and Lisa Roberts, two residential mortgage professionals who have worked in the Pitt and Beaufort County markets for more than 30 combined years.
To Jim Clement, the bank's arrival in Greenville comes at just the right time. "With other financial institutions consolidating or leaving the region, it is a favorable time for TowneBank with its excellent reputation for exquisite service delivery and community involvement to plant its flag here. During my association with Towne, I have found everyone to be very caring and committed to the community.  I know that many of our insurance clients and employees are eager to become TowneBank members."
"Eastern North Carolina is uniquely positioned with a blend of industrial, manufacturing and life science companies, in addition to a wonderful regional health system in Vidant Health," says Steele. "These strong economic generators, along with vibrant post-secondary educational opportunities through East Carolina University and Pitt Community College, convinced Towne to make further investments in the Greenville area."
"The team spirit of caring at TowneBank is very infectious.  I've been in banking for 23 years," says Marsh, "and I've never experienced anything like it.  The Bank is committed to its banking family and the communities they serve, and we are certain that will also be the case here."
The Charles Boulevard office is open from 9:00 a.m. – 5:00 p.m. Monday through Thursday and 9:00 a.m. – 6:00 p.m. on Fridays.   "Residents and businesses will be able to access a full array of competitive banking services but with an attention to detail that has characterized TowneBank since its inception," says Steele.
Submitted by: Joel Rubin, Rubin Communications Group