It's Blogging for Small Business
Mondays in March at the Small Business Center for Pamlico Community College
A Free Educational Series on Blogging and Business Promotions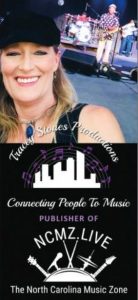 Local blogger and creator of The North Carolina Music Zone will be teaching participants about blogging for small business in this four-part series. We will cover the importance of a blog. It will show you how a blog can enhance your online presence. We will discuss building your audience and talk about how to make your blog lucrative and work for you.
A business blog is one of the most cost-effective and easiest ways to promote your business. Done right, it can drive traffic to your website, increase your sales, establish you as an authority in your industry and also help you to reach new markets.
And remember, the services at The Small Business Center are always "Free, Free, Free, FREE"!!
March 4  Is Blogging Right for your Business?
REGISTER: https://bit.ly/2EytGQf
If you have a small business with a website and have wondered about blogging, come out to learn more about this fun practice.
March 11 The Operations of your Site
REGISTER: https://bit.ly/2Eet2WJ
Once you decide you are going to commit yourself to the blog, there are lots to learn about building your blog site so in this series we will discuss the plugins and features of your blog site.
March 18  Personalizing your Site
REGISTER: https://bit.ly/2ExKK93
There are plugins and apps and all kinds of features that help to make your page stand alone. In this part, we explore how to make your blog site your very own.
March 25  Building your Blog
REGISTER: https://bit.ly/2tEGMoM
The dream of many bloggers is to grow the site so to earn revenue. In this final series segment, we talk about building your blog site and the many ways blogging about your small business can lead you down roads where another unclaimed revenue await you.
Did You Know?
This series is made possible thanks to the Small Business Center Network and for those that don't know the history of this great community service available at so many of our community colleges here is a little bit of a background.
The SBCN was established in 1984 by the North Carolina General Assembly as a constituent program of the NC Community Colleges. With the initial funding of eight Small Business Centers in 1983-1984, the SBCN expanded to all 58 institutions by 1995.
With over 60 sites throughout North Carolina, the SBCN is known as the most expansive state-funded technical assistance program for small businesses in the United States, having locations within a 30-minute drive of virtually every North Carolinian.
SBCN Purpose:
The objective of the SBCN is to increase the success rate and the number of viable small businesses in North Carolina by providing high quality, readily accessible assistance to prospective and existing small business owners, which will lead to job creation and retention. Each SBC will be a community-based provider of education, training, counseling, referral, and information.
SBCN Organization and Staffing: State and Local Levels The SBCN is part of the North Carolina Community College System (NCCCS) and as such is governed by the policies and rules approved by the State Board of Community Colleges. The State Board and the staff of the NCCCs are responsible for developing policy and state allocations for the SBCs.
Core Curriculum: Each SBC will offer the following Small Business Development Series or SBCN-approved equivalent at least two times per fiscal year. The Small Business Development Series details the basic skills required to start and operate a successful business and consists of the following topics. Small Business Development Series (suggested a total combined time of 10-15 hours)
How to Start a Business
How to Write a Business Plan
Financing Your Business
Marketing Your Business
How to Find Your Customers (Market Research)
Business Taxes
Basics of Bookkeeping
 Counseling
Other Seminar/Class Offerings In addition to the core curriculum, the SBC shall offer additional educational programs and services designed to address the specific and unique management needs of current and prospective local small business owners as detailed in this section. An example of this is the blog series being offered at PCC this month. To see all of the wonderful opportunites being resented by the SBC at PCC please follow this link and sign up for the classes that interest you.
https://www.ncsbc.net//center.aspx?center=75360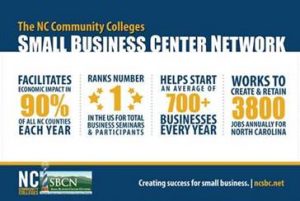 Tracey Stones