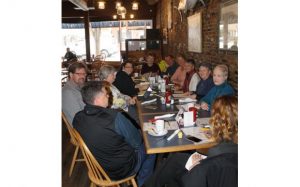 We kicked off the meeting by going around the table and introducing each other. Although a lot of the participants were members of New Bern Now's Team, we felt that it was very important to open up this forum to community members who want to be involved in helping us improve or getting involved in our efforts.
Participants included:
Laura Johnson, NBN Special Advisor, Ledger Distribution Director, and Podsquad Member; Tracey Stones, Director of Sales and Marketing for NBN and owner of Tracey Stones Productions and the North Carolina Music Zone (NCMZ); Rich Sheridan, Crystal Coast Discovery Map, Special Advisor, and Podsquad Member; Jane Maulucci, The Reactive Voice and Trained by Jane also NBN Contributing Author, Podsquad Member and Advisor; Kathy Morrison, Public Relations, New Bern Historical Society and Podsquad Member; Colleen Roberts, City of New Bern Public Information Officer and Podsquad Member; Randy Foster, New Bern Post and Designer of NBN's Ledger magazine; Dee Tendell, Educator and Representative of New Bern Live; Captain David Backus, Cruise the Neuse River Tours; Beth Hardy, Cruise the Neuse and Happy Girl Tasting Tours; Susan Braaten, Technology Guru and Trainer; and Virginia Spencer, Carolina Creations Fine Art & Contemporary Craft Gallery.
What discussed opportunities and current needs:
– If you want to join our team as an intern or volunteer, we need help updating NBN's large website (4,800 pages)
– Become a Contributing Author and become known as the local "go to person" for your niche
We're constantly trying to figure out ways to improve our services. Here's some of a few take-aways from this session:
– We need to re-design NewBernNow.com to make it more pleasing to the eye and make it more mobile friendly
– Although we tried using forms so readers could publish articles and comment in the past, we were hacked numerous times, so we removed it. Since our goal is to engage with our community, we will re-examine the technology to create a user-friendly experience and opportunity for readers to submit directly to the website and be able to comment on articles.
– We realized that we need to improve our branding efforts. It was very helpful to get advice from the group about how we can re-brand. Some people don't realize that New Bern Now has several multi-media opportunities to help you reach different audiences. They include digital, print, local radio and podcast, and of course social media sites. We all have different ways that we consume information and in the past 10 years, we've created a company to serve a diverse audience.
– If you're a branding expert, we welcome your feedback on how we can communicate that New Bern Now has a "Local Online Community Website", a quarterly print and online "Ledger Magazine", we also have "New Bern and Beyond Podcast" that airs on WNOS 103.9FM and 1450AM, NewBernLive videos capturing our podcasts, and you can listen 24/7 on NewBernNow.com, iTunes, and Libsyn Stations. This also includes our social media sites: Facebook, Twitter, Instagram, Pinterest, and YouTube. We need to work on branding all the different entities of New Bern Now.
– With election season approaching we tackled a very sensitive topic and have come up with a great solution (thanks to Dee Tendell). We talked about ways that we could help candidates of all parties educate the public by creating a neutral questionnaire and sending it out to all of them. This would give them an opportunity to educate potential voters of what they believe in. The sole purpose is to educate voters and we do not allow political banter that creates discord in comments. We are neutral when it comes to politics as we believe every voter, no matter what their political affiliation is should be informed.
We talked about the Ledger magazine and how we could improve it.
We also talked about the Podcast. We started live and asked if we are too monotone sounding, too scripted, and we realized that the group preferred listening to live content and having the opportunity to listen/watch the show live. It's more authentic and that's our goal.
Please know that this is the beginning of numerous meet and greet, brainstorming events for us to introduce participants to local businesses and various meeting places. By learning from each other, we can ultimately improve our services to residents and visitors to New Bern.
These are only a few examples of what we talked about. We hope that you join us for future Learning In New Bern Now events. Although this first event was a limited to 15 people, we plan on opening it up to more people so we can truly gauge the pulse of our community, introduce you to new people and places, and have a good time. It's a new way of connecting each other and improving our services to everyone living in the greater New Bern area.
Although we love Kitchen on the Trent, I didn't communicate our meeting needs properly so we ended up relocating to a more intimate setting so that we could have an open meeting without imposing on patrons. Special thanks to Captain Ratty's for accommodating our large group at the last minute.
Thank you to everyone who attended our first event! Stay tuned, as we're planning for our 2nd brainstorming forum in two weeks.
Wendy Card