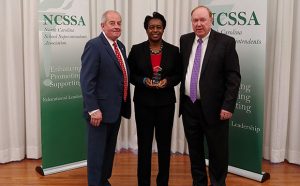 For the Aspiring Superintendent Program Cohort III
The North Carolina School Superintendents' Association (NCSSA) and the North Carolina Alliance for School Leadership Development (NCASLD) has announced the selection of Dr. Tosha Diggs as a recipient of the Dr. Samuel Houston Leadership Award. This annual award is presented to a graduate of the North Carolina School Superintendents' Association Aspiring Superintendent Program, a program which is designed to empower transformational education leaders for North Carolina's public schools.
The award is named in honor of Dr. Samuel Houston who is President and Chief Executive Officer of the North Carolina Science, Mathematics, and Technology Education Center.  Dr. Houston served as superintendent of the Mooresville Graded School District for ten years where he opened the first year round school in North Carolina.   Dr. Houston has been a champion for strategic planning, student performance and accountability, meeting the needs of the 21st century workforce, skills for the STEM world and building education partnerships. Dr. Houston also served as the first executive director of the University of North Carolina Center for Leadership Development.
Dr. Houston was awarded the Jay Robinson Leadership Award as an Exemplary Educator for his outstanding contributions to statewide public K–12 education.  He also earned the RJR-Nabisco Foundation's China Breaker Award for implementing educational change. He has been inducted into the Appalachian State University Reich College of Education's Rhododendron Society and the East Carolina University's Education Hall of Fame and has received the Distinguished Career Award from the University of North Carolina – Greensboro School of Education.
Jack Hoke, Executive Director of the North Carolina School Superintendents' Association said that Dr. Diggs exemplifies the traits that have guided Dr. Samuel Houston's career in educational leadership. She has a commitment to continuous improvement, high standards of ethical conduct, strategic planning, improving student performance and meeting the needs of the 21st century workforce.
Dr. Diggs currently serves as the Director of Secondary Education for Craven County Schools. With almost 22 years in education, she has been a high school principal, assistant principal, school counselor, and coach.  She works with Craven County's middle and high schools to help prepare young people for the future.  As a former North Carolina Teaching Fellow and college student-athlete, she values the experiences that students and educators can embark upon when they work together and take advantage of all learning opportunities.
Craven County Schools' Superintendent Dr. Meghan Doyle said, "Dr. Diggs is a phenomenal educational leader in Craven County Schools. What is impressive about Dr. Diggs is her thoughtful and caring approach to supporting and empowering the leaders of our district. I have no doubt that Dr. Diggs will continue to expand her reach beyond the borders of Craven County to impact the state of North Carolina in important and profound ways. I am humbled to be her colleague and learn from her leadership daily."
Dr. Diggs said of the award and the program: "It is an honor to receive an award named for Dr. Houston, who is such a valuable contributor to the field of education.  I hope to make his legacy proud through the work that I do every day.  Servant leadership is important to the success of our students, educators, and community, and the lessons I've learned through this program will aid my professional growth to continue serving. This experience has been extremely enriching and inspiring, and I am grateful to have met such motivational educators from around our state."
Submitted by: Jennifer Wagner, Director of Public Relations, Craven County Schools