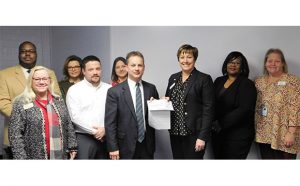 In 2017, our local Wells Fargo representatives recognized the need for technology in Craven County Schools' classroom, and together with Partners In Education, established the Wells Fargo Tech Grant.
This grant seeks to engage our students using the most advanced technology available and demonstrates Wells Fargo's commitment to improving the educational experience in our public school classrooms.
The winner of the 2018-19 Wells Fargo Tech Grant is Claudia Casey and Michelle Smith with Tucker Creek Middle for their grant, "Building Logic and Reasoning Skills with Ozobots."
If you would like to learn how your organization can make a difference through Craven County Schools' local education foundation, PIE, contact Darlene Brown, Executive Director, at 514-6321.
Submitted by: Darlene Brown, Craven County Partners In Education