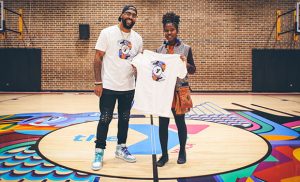 Shaping The City Through Creation And Inclusive Collaboration
New Bern Arts and Wellness Center, 919 Broad Street, New Bern
Friday, March 8th (6 – 8 p.m.) –  Saturday, March 9th (1 – 4 p.m.)
Free – Open to the Public
Artist and Muralist, Georgie Nakima, has partnered with the New Bern Arts & Wellness center, Promise Place and the Craven Arts Council to launch, Revitalize New Bern, a public art initiative organized through a series of monthly educational art workshops.  All members of the local community are invited to attend the last of three workshops on Saturday, March 9th, from 1 – 4 p.m., which will explore the sustainability of the community's environment post-Hurricane Florence. To register for the workshop online: NewBernCenter.com/events/community/.
In celebration of the finale, the initiative is hosting an exhibit "When Water Rises". Artists from the community have submitted 2D or 3D artwork that represents the community's beauty, diversity, and/or environment. The opening will be Friday, March 8th from 6 – 8 p.m. at New Bern Arts & Wellness, 919 Broad Street, and will include a raffle prize, artist talk, and light refreshments. Artwork submission applications accepted until February 28, 2019 at NewBernCenter.com/events/community/.
"I'm very passionate about environmental justice and how it affects communities on an intersectional level…. The reality is that environmentalism affects all walks of life and we should feel accountable when it comes to taking responsibility for what's happening around us. After the extreme damage experienced from Hurricane Florence floods, it became apparent that its essential that our community receives the inspiration and outreach necessary to keep the present and future of our ecosystem thriving. There are so many amazing initiatives happening in New Bern that deserve to be highlighted; we want to encourage Revitalize New Bern to serve as a platform to anchor other advocates that are creating expansive opportunities for resiliency in the community. The most insightful part of this experience so far has been connecting with local leaders that are anchoring innovative approaches to sustainability and restorative growth." beams Georgie Nakima; her passion and commitment are inspiring.
Georgie Nakima was raised in New Bern, NC, and has a background in art in public spaces, community outreach, and project development. She brings over ten years' experience in design and organizing mural installments and exhibiting outside of traditional museums. Her most recent projects have embraced cultural diversity as a featured artist for the nationally recognized Born to Roll campaign advertised by Ford and as a Lead Design Artist for the NBA All Star Weekend mural collaboration sponsored by Xbox, 2K Foundation, and Microsoft. She has a passion to use art as a medium to teach, inspire, and heal by fusing techniques in art therapy and community-led outreach.
Revitalize New Bern has a mission to use art as a teaching medium to enlighten, inspire, and uplift residents in New Bern and surrounding areas that have been displaced due to flooding damage caused by Hurricane Florence. The goal is to acknowledge its history and immediate environmental concerns that have a hazardous impact to vulnerable groups while providing creative solutions that impart awareness and stronger decision making. The three workshops incorporated Art therapy as an engagement tool to bridge hope and understanding to the community.
Funding for the project is provided by Z, Smith Reynolds Foundation and the North Carolina Department of Health and Human Services.
By Contributing Author, Heather Noto on behalf of Georgie Nakima, Learning Resources for Change