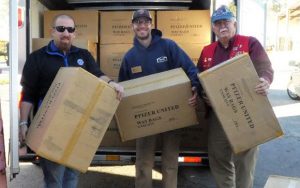 Lions Keith and Jana Peedin received a surprise one morning in early January.  120 large boxes of carry bags were delivered to their home as a generous gift from the Pfizer Corporation.  The carry bags were a gift to the North Carolina Lions District 31-N to help with disaster relief.  Lions across the district mobilized to help to distribute the bags.
Lions knew that many food banks and groups have traditionally provided food, such as buddy packs, to children in need of a supplementary food source.  However, Hurricane Florence with its displacement of many families has stressed the ability of these food sources to help the additional needs caused by the storm.
Without access to free or reduced school lunch, many children struggle with hunger over the weekend. Children who lack access to nutritious foods over the weekend may show up to school suffering from dizziness, nausea, and have difficulty concentrating. The Backpack Program by Nourish NC and similar projects were thus created to ensure kids show up to school Monday morning happy, healthy, ready and able to learn.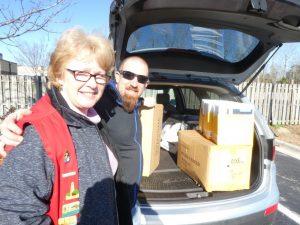 The carry bags supplied by Pfizer will be very useful to help in the distribution of food to kids and displaced families.
Lions rented a trailer and Lion Robert Block of the New Bern Lions volunteered to deliver the carry bags across the Lions District 31-N.
With the help of the Smithfield Lions Club, Burgaw Lions Club, Calabash Lions Club, Goldsboro Lions Club, the New Bern Lions Club and others the bags are being distributed.
Nourish NC located in Wilmington, NC, received 1492 bags.  A donation of 176 bags were donated to the Pender County Schools and 160 to the Brunswick County Schools.  Goldsboro Lions Clubs received 36 bags for distribution.  Craven and Pamlico County Schools received 96.  A smaller number were distributed in Smithfield, NC, and other areas.
The Lions Clubs of District N cover most of Southeastern North Carolina from Fayetteville to Calabash, and from Bath to Benson.  The District has donated over $40,000 for disaster relief in our area.
Submitted by: Lion Robert C Block Jr., District 31N – Zone 8 Chairman, New Bern Lions Club, President 2017 – 2019