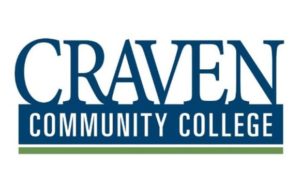 Craven Community College (Craven CC) students now have access to the Golden LEAF Scholarship application through Feb. 8, 2019. Scholarship funds may be used for tuition, books, fees, supplies, childcare services and mid-skills credentialing.
The scholarship is funded through a grant from the Golden LEAF Foundation, a nonprofit organization established in 1999 to help transform North Carolina's economy. Golden LEAF's goal is for scholarship students to gain the talent, knowledge and skills needed to help their communities thrive.
"The Golden LEAF Scholarship pays up to $750 per semester for full-time curriculum students that demonstrate financial need and reside in a rural county that is tobacco dependent and/or economically distressed," said Lydia Finlayson, Craven CC financial aid advisor. "Funds are also available for students less than full time but are prorated based on the number of credits they are registered for."
Finalists that meet all the eligibility criteria will undergo a separate "merit" competition. Selection is based on several elements, including the effect of the declining economy on the student's family, as well as connections to farming/agriculture businesses or traditional industries such as textiles or furniture manufacturing. Other factors considered include whether a household member lost their job or went from full time to part time, the student's academic record, leadership and community service.
Applications for the Golden LEAF Scholarship are available at CravenCC.edu/news/category/scholarships/. Finlayson may be reached at 252-638-5964.
Submitted by: Craig Ramey, Director of Communications, Craven Community College