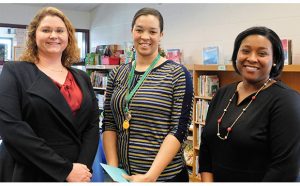 Edward Jones Financial Advisor Joanna Carr partnered with Partners In Education to award a $100 gift card to Angeline Fields, Guidance Counselor at Oaks Road Academy.
Dr. Eleanor Patrick, principal at Oaks Road Academy says, "Under Mrs. Fields' leadership, the ORA Student Council is reaching new heights.  Student Council has expanded to include students in 3rd – 5th grade. These students meet on a regular basis to discuss school issues, provide examples of ways to improve learning at ORA and develop their leadership skills. These scholars have provided leadership towards the development of our PBIS plan, school spirit days, and more."
The Edward Jones Teacher Recognition Award demonstrates the company's commitment to positively changing the lives of students and families in our community. Pictured is Ms. Carr presenting the gift card to Ms. Fields with her principal, Dr. Patrick.
If you would like to learn how your organization can make a difference to a Craven County Schools teacher in the classroom, please contact Darlene Brown, Partners In Education, at 514-6321.
Submitted by: Darlene Brown, Craven County Partners In Education