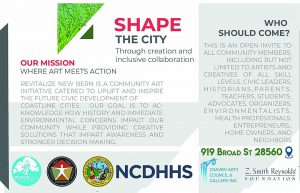 New Bern Entrepreneur Community,
Come help shape the city! Bring your creativity to the first of a series of educational workshops to develop public art that symbolizes our community's beauty, diversity, and resilience.
Saturday, January 19, 2019, 1 – 4 p.m. at the New Bern Arts and Wellness Center, 919 Broad Street in New Bern.
Register here: NewBernCenter.com/events/community/.
Follow-up workshops will be held on February 9th and March 9th from 1 – 4 p.m.  Flyers and information will be released later this month.
Submitted by: Heather Noto, Brink Strategy