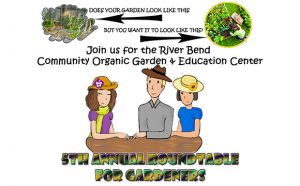 Bring your concerns and questions to the River Bend Community Organic Garden and Education Center's fifth annual Roundtable for Gardeners on Tuesday, February 12, 2019 at 6:30 pm at River Bend Town Hall. This year our experts will each try to help you get your garden on track to grow healthy herbs and vegetables following last year's destructive storm. They will also offer remedies for your vegetable concerns during this interactive forum. The roundtable presents an opportunity to seek ideas and share your own solutions to garden problems. Come meet other vegetable gardeners and find answers to your garden problems.
This year's experts who will help you find solutions are Lisa Rayburn, Agriculture Agent, NC Cooperative Extension, Onslow County, Tim Minch, Grounds Coordinator at Lenoir County Community College; and Hadley Cheris, Gardens and Greenhouse Manager at Tryon Palace.
Following the forum, winter-themed refreshments will be served. Our gardeners are creative cooks and they will show you that healthy food can taste delicious.
RSVP recommended. Contact Dee Smith at 252-349-4000.
Submitted by: Connie Casey, River Bend Community Organic Garden and Education Center