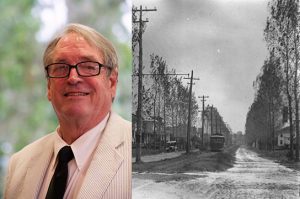 John Leys Presents Historical Society Lunch & Learn January 9
The Ghent neighborhood has a lively and vibrant past.  This is the story that John Leys will share at the January 9 Lunch & Learn at The Chelsea for the New Bern Historical Society. Leys explains "The Story of Ghent will take us back to the days when Ghent was developed from the Rhem family plantation and explain how the neighborhood grew with the introduction of the trolley. We'll remember all the fun the children had with the coming of the circus. Let's not forget the Casino with sports events, dances, rides and concessions. Who remembers that the famous Gorgeous George had a wrestling match there?! We'll talk about architecture and a few notable residents. Over the years Ghent has had a significant influence on New Bern, and we hope will continue to far into the future."
Ghent resident John Leys came to New Bern after finishing his graduate degree at East Carolina University in 1975 and taught French, History and English in the New Bern school system.  After retiring as a teacher he worked at the Craven County Convention and Visitors Bureau, the New Bern Public Library, and Tryon Palace.  An active volunteer with the Historical Society, he served on the Board of Directors as the Historian, recently stepping down after ten years of service.  John has done extensive research and writing, and written scripts for and acted as a ghost in Ghostwalk and Haunted Evening productions.  He has appeared in many productions at the Civic Theatre and was on the founding board of the Rivertowne Players.  John loves New Bern and thinks it has some of the nicest people in the world!
Lunch & Learn starts at 11:30 a.m. at The Chelsea Restaurant, 335 Middle Street, New Bern. The cost is $17 for Historical Society members and $22 for non-members; lunch is included. Advance reservations must be made by calling the New Bern Historical Society at 252-638-8558, or can be ordered at www.NewBernHistorical.org/tickets. Lunch choices: Low Country Pork Tips, Rosemary Roasted Potatoes, Broccoli with Lemon Butter Or Shrimp and Broccoli Alfredo and Chocolate Tuxedo Cake.
The mission of the New Bern Historical Society is to celebrate and promote New Bern and its heritage through events and education.  Offices are located in the historic Attmore Oliver House at 511 Broad Street in New Bern.
For more information, call 252-638-8558 or go NewBernHistorical.org or Facebook.com/NewBernHistoricalSociety.
Submitted by: Kathy Morrison, Public Relations, New Bern Historical Society