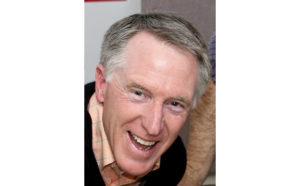 Scott Mason Gives Historical Society's Lore Lecture November 11
WRAL's Scott Mason has been travelling throughout North Carolina since 1997 meeting interesting characters, learning fascinating stories and discovering delicious food. On Sunday, November 11 at 2 p.m. at the New Bern Historical Society's annual Lore Lecture, he'll share some of what he's learned presenting Tarheel Traveler, Stories from the Road. This is a free presentation that will be held in the North Carolina History Center. No tickets or reservations are necessary. Doors will open at 1pm. There will be a reception following the lecture.
Scott Mason is a broadcast journalist with 35 years of television experience. He has won dozens of awards for documentaries, writing, and feature reporting, including three National Edward R. Murrow awards and 20 regional Emmys. The Electronic News Association of the Carolinas has twice named Scott North Carolina Television Reporter of the Year.
Scott has worked as a reporter and bureau chief for network affiliates in Chattanooga, Tennessee; Winston-Salem, North Carolina; and Dayton, Ohio.
In 1991, Scott joined the PBS affiliate in Richmond, Virginia, where he created, wrote, produced, and hosted a weekly news magazine. Virginia Currents won more than 100 awards for journalistic excellence during Scott's tenure. The United States Information Agency distributed the program to embassies worldwide.
Scott's success caught the attention of WRAL-TV, the NBC affiliate in Raleigh, North Carolina. In April 1997, Scott became the station's Documentary Producer. He researched, wrote, and produced ten documentaries before adding his talents to the nightly news team as a reporter specializing in features.
Today, Scott is known as the Tar Heel Traveler. His Monday – Thursday series on WRAL takes viewers along the back roads of North Carolina where he meets memorable characters, finds out-of-the-way places and unearths fascinating historical footnotes. The series has become so popular it has led to Tar Heel Traveler half-hour specials, which Scott produces each quarter.
Scott has also published two books about his television adventures: Tar Heel Traveler: Journeys Across North Carolina (2010) and Tar Heel Traveler Eats: Food Journeys Across North Carolina (2014), both published by Rowman & Littlefield Press.
Scott's third book is FAITH and AIR: The Miracle List (2017, Light Messages Publishing), a creative nonfiction account of people he has profiled during his career who say they have experienced miracles.
The Dr. Richard K. Lore Lecture is presented annually by the New Bern Historical Society as a free event for all those interested in area history.  It is in memory of, and is named for the Society's long-time historian.
Join the New Bern Historical Society and hear this fascinating speaker, Sunday, November 11th for this free event. No tickets or reservations are necessary. This lecture is presented by the New Bern Historical Society in partnership with Tryon Palace and is made possible by funding from the North Carolina Humanities Council, a statewide nonprofit and affiliate of the National Endowment for the Humanities.
The mission of the New Bern Historical Society is to celebrate and promote New Bern and its heritage through events and education. Offices are located in the historic Attmore-Oliver House at 511 Broad Street in New Bern. For more information, call 252-638-8558 or go to NewBernHistorical.org or Facebook.com/NewBernHistoricalSociety.
Submitted by: Kathy Morrison, Public Relations, New Bern Historical Society