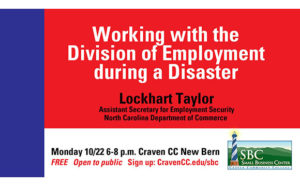 WHAT: Information session, "Working with the Division of Employment during a Disaster." Presented by Lockhart Taylor, the Assistant Secretary for Employment Security for the North Carolina Department of Commerce.
WHERE: Bosch Advanced Manufacturing Center (Bosch AMC) Room 102, Craven Community College (Craven CC), 800 College Court, New Bern NC, 28562
WHEN: Monday, Oct. 22, 2018, 6-8 p.m.
WHO: Small business employers, small business owners, self-employed
WHY: Offered by the Small Business Center at Craven CC, the purpose of this information session by the NC Division of Employment is to help business owners and self-employed in understanding Disaster Unemployment Assistance (DUA). The session will welcome questions about DUA as well as Unemployment Insurance.
HOW: Online registration is requested by visiting CravenCC.edu/sbc.
This event is free and open to the public. For more information call 252-638-1166 or email sbc@cravencc.edu.
Submitted by: Craig Ramey, Director of Communications, Craven Community College