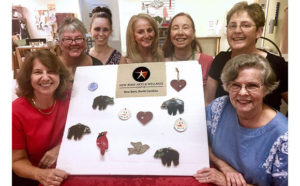 Potters of the New Bern Arts & Wellness Center Prepare
The Potters of the New Bern Arts & Wellness Center don't take a back seat to Santa's elves when it comes to Christmas preparations.  They are partnering with the New Bern Historical Society preparing ornaments for the upcoming 2nd Annual Gingerbread House Contest & Display.  Each person that enters the Gingerbread House Contest will receive a unique hand-crafted ornament.  Samples of some of the wonderful work of the potter's group will be displayed in the window of Bebop's Café from November 16 through December 18. Be sure to see it!
The Potters of the New Bern Arts & Wellness Center is a group made up of 8 artists who have given their time and talents to produce these wonderful gifts. The potters have worked through the fall, despite the efforts of Florence, and have created a delightful collection. They are Sally Antonellis, Keitha Covalla, Alfea Camia, Pat Eglinton, Eileen Shaloub, Linda Golden, Shannon Semple and Janet Keefe.
Michaele Rose Watson, potter and owner of Michaele Rose Artist Studio, who led and organized the pottery effort is happy with the results. "New Bern Art and Wellness Center Potters at 919 Broad St. have created beautiful ceramic ornaments for the Gingerbread House Contest.  If you are interested in meeting or talking with some of these wonderful potters or taking a class in clay, you can reach them during studio hours at 252-497-8928."
The Gingerbread House Contest and Display is part of the festivities of Beary Merry Christmas downtown.  Both individuals and groups are invited to make their own gingerbread creation and enter it in the contest. Completed houses will be displayed at selected downtown merchants. In the wake of Florence, the Historical Society aims to bring the crowds – and the smiles – back downtown with these fanciful creations.
There are three categories for contestants:  Youth (up to 14), Adults, (age 15 and up), and Professionals (bakers, chefs, caterers, cooks, etc.)  There will be cash prizes up to $250, and all who enter will receive a hand-crafted pottery ornament made by the Potters of the New Bern Arts & Wellness Center.  Two additional awards have been added for 2018: The Nancy Chiles Heritage Award and The People's Choice.  The deadline to enter is November 5th.  Information and entry forms will be found on the New Bern Historical Society website NewBernHistorical.org/gingerbread/
The mission of the New Bern Historical Society is to celebrate and promote New Bern and its heritage through events and education.  Offices are located in the historic Attmore-Oliver House at 511 Broad Street in New Bern.  For more information, call 252-638-8558 or go NewBernHistorical.org or Facebook.com/NewBernHistoricalSociety.
Submitted by: Kathy Morrison, Public Relations, New Bern Historical Society