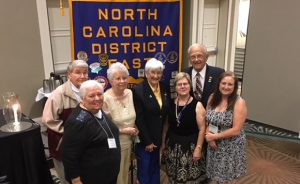 New Bern Civitan President, Jan Snyder, leapt out of her seat at the recent Civitan International North Carolina District East (NCDE) Convention held in Raleigh, NC, on August 24 – 25 when she heard the Club's name called for four distinct honors. The NB Club won 2nd Place for its Club Bulletin; 2nd Place for Club Website; 1st Place Club Humanity Award for its Monetary Contributions and 1st as the North Carolina District East Civitan Club of the Year.
There are 53 active clubs in NCDE and over 100 Civitans participated in the Convention. These competitive awards are judged from applications that all clubs submit to a committee made up by NCDE members and outside judges to insure unbiased results. NB Civitan President-Elect, Norma Judd, served as the Club's Awards Chairperson this year.
New Bern Civitan Club members engage in many and varied fundraisers throughout the year and all money collected go to local charities. Among the charities that are supported are Special Olympics, RCS Soup Kitchen, RCS Shelter Dinner Program, MERCI Clinic, Coastal Women's Shelter, the Veterans Stand Down, DSS Christmas Angel Program and many more. The monetary contributions in addition to the "hands on" services to the community including ramp building and Santa Land helped to distinguish this Club as Number 1.
Jan Snyder said, "I am so proud of this Club and all its members. We are a group of people who want to give back to our community any way that we can. Our members work hard on all our projects. It is great to receive this recognition from our peers. We are always looking for like-minded people to join us in our mission to help others. Our meetings are open to all community members.
For those who are interested, you can find more information about our Club at our website NewBernCivitan.org.
Snyder continued, "Our club members do what they do for intrinsic, personal reasons – not to be publicly recognized, but I can tell you that it feels good to be honored this way!"
Submitted by: Maureen Comer, New Bern Civitan Club