If you search #HurricaneFlorence on any social media platform, you'll likely see hundreds of thousands of posts of all the damage this nasty hurricane delivered. I'm here today, to show you how the people of this little city in North Carolina are #NewBernStrong.
Homes have been destroyed, businesses have been flooded – you wouldn't know it from all of the smiling faces I saw today. Just four short days after the hurricane first hit, businesses in New Bern are already opening back up. Pizza is coming out of the oven, the beer is flowing, and the many shops we've come to know and love are opening their doors once again.
Yes, it's far from over – but the sun is starting to shine on all of us again.
If you have happy photos you want to include, email me to be included on the follow up documentary of this resilient city.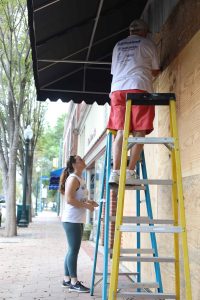 Tom from Tom's Coins & Antiques along with Hope from A Hopeful Balance starts to remove the boards covering the storefront to The Black Cat Shoppe.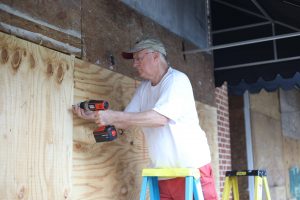 Hope shows a tree that fell in between buildings, which was previously reported to the town as needing attention. The other part of the split tree fell onto their rooftop.
Tom & Hope share an embrace. Hope was very proud of Tom because he opened his home to someone who had become displaced. She says that's what we're going to need right now, that kind of attitude.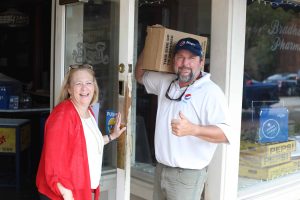 Sabrina Bengel & Chris Craft deliver Pepsi Soda to the Pepsi store on Middle Street.
Taylor Bennet of Taylor'd To You Boutique on Craven St with her husband Trey in their store, which was flooded by Florence. Their inventory of boutique women's clothing is safe and sound, and they are taking online orders through their website https://www.shoptaylordtoyou.com/, which is already bustling with online orders.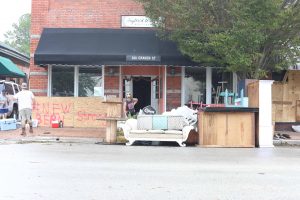 In front of the Taylor'd To You Boutique, they wrote on their boards #NewBernStrong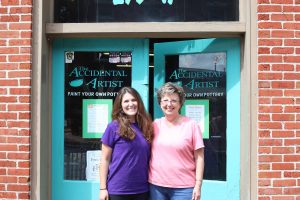 Audra Schaefer of the Accidental Artist, a pottery painting shop, stands with Mable Doughty. Their shop is open, and their smiles are bright.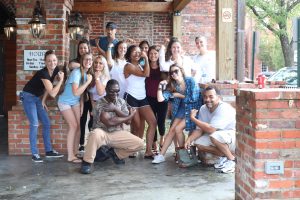 Morgan's Tavern & Grille held an employee staff meeting today. They are not yet ready to open back up, but the manager Cat has told me they are working diligently to get open. The team enthusiastically posed for the camera with their muscles up, showing their #NewBernStrong pride.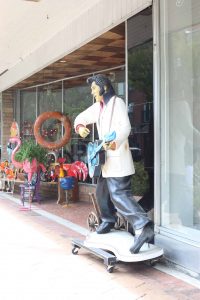 I spoke with Gail from Middle Street Antiques. A passerby had told her, "You know it's a good day when you see Elvis on Middle St."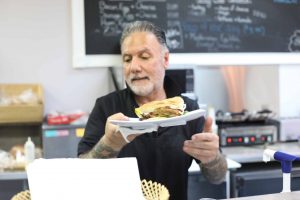 Gus from BeBop's Cafe on Middle Street prepares a warm meal for a patron. Gus had come in at 5am to get his delicious cafe ready for business. He was certainly tired, but had the time to share a few laughs with me as I had my afternoon coffee there (and wrote this article)
I hope you all know that the sun will continue to shine on our great little city of New Bern. We are strongest when we come together as a community.
By Contributing Author, Brad Poirier, Bear City Impact