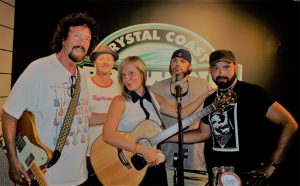 Meet the Mermaid of our Crystal Coast Music Scene, Miss Tiffany Elaine
We have many great players that hail from the Crystal Coast area. This becomes evident anytime I head out to an open mic hosted by Tiffany Elaine. This hardworking country girl does so much for her music community. She truly is a girl after my own heart. It was at an open mic in New Bern, NC where I first met the budding entertainer. Since then, she has been to Nashville to record, on the radio for interviews more than once, and spends most of her nights keeping busy promoting music in her own distinct way!
Currently, Tiffany Elaine is hosting several open mic events each week. She can be found in the Jacksonville, Newport, Morehead City, and Beaufort, hard at work hosting open mics nights to help venues and the music makers.
She opens the night with a few songs, many times they are compositions of her own. Then she turns the floor over to her friends and works tirelessly to promote them with introductions and praise. She can be found on the first Monday of the month in Jacksonville, NC at Nick's Blacksheep Tavern, which happens the first Monday of each month. On the second and fourth Monday of the month she is at Shortway Brewing Company in Newport, NC. Tiffany hosts an open mic event every other Tuesday at Cru Bar and Wine Store in Beaufort and then at Crystal Coast Brewery in Atlantic Beach, the opposing Tuesday. This singer offers an open mic every other Wednesday at North Star Cafe in Jacksonville and she just recently signed up with Tight Lines Pub and Brewing Co. a room for the opposing Wednesdays in Morehead City, NC.
To be quite honest, if I was a new artist on the scene, I'd set out by showing up at this ambition singers' open mic events! She's a class act who knows how to host a jam. The results are often positive for the performers as well. Many of the acts are often booked by the establishments for future dates. This is not always the case, but it is a fantastic way to expose yourself and get your music out there. So, pack up the gig bag and meet me at the open mic!
I almost always meet fresh players when I attend Tiffany's events and that was true again two weeks ago, when I heard Kelsey Krumroy offer a couple of original tracks he wrote. I also met Fernando Rivera, a talented player and songwriter, who recently teamed up with Tiffany Elaine for collaboration on a new project, a duo act named Now or Never.
The duo has been writing and will soon be recording their latest composition, "Waves"! More on that as it becomes available.
Though I don't always get to hang out with Elaine at her Open Mic events, that is only because, the singer-songwriter and open mic hostess first and foremost is a mom. Sometimes rocking the single mom life means, running things from the crib, while good friends like Steve Mehan and Ashford Ward help her with the list step up and the introductions when she can't be there personally.
Teamwork makes the dream work and as a result, Tiffany Elaine is a talented team leader, even when absent. Follow her on Facebook to see where she is hosting the next open mic night in your neighborhood at Tiffany Elaine Music.
You can also support this hard-working mama by buying her music which is available on iTunes, Spotify. She works hard supporting community, so I hope you will consider supporting her and her music!
I'll be attending more of her events myself, as it is a terrific way for me to meet fresh players and hear them as they grow on the scene. Open jams and open mics are an awesome way for you to meet new players and hear new talents. It is also a great vibe when creative people come together and gel. I find it fascinating for my writer's brain!
More Stringers and Singers: Meet the Adam Hill Band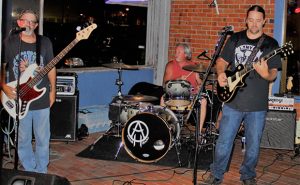 For those looking for a great rock experience done right, be sure to find Adam Hill and his band soon. This band is one of the most rocking bands in our region, offering classic sounds and amazing original works. Playing guitar since a young child, Hill has used music as a tool for surviving life. After losing his father to suicide, Hill remembers the days of his carefree childhood being shattered by an act a pure selfishness. It was after his father's passing that Hill turned toward music as an escape from this world's realities. Since then he has mastered his craft on the six strings and uses the expression of lyrics to see his way through the maze of life. His original works are rather moving and always emotional. Currently touring the region as a trio, The Adam Hill Band features Hill on guitar and vocals, Gordy George on bass and vocals; and Cecil Pittman, Jr on drums and vocals. Hailing from Pink Hill and other points in Lenoir County, the band stays busy on the road rocking the region.
You can find them rocking in New Bern NC quite often and you can catch them rocking the Crystal Coast also, in rooms like Off the Hook in Morehead City and at Cape Carteret Speedway in Swansboro, NC. In fact, coming up this month you can find them rocking at Off the Hook, 105 S 7th St., Morehead City on Saturday August 4. Music plays from 10 pm – 1:30 am. They are in Jacksonville on Saturday August 11 when they rock at Nick's Blacksheep Tavern, 1140 Old Maplehurst Rd., Jacksonville, NC. That show starts at 9 pm. On Sunday, August 12, Adam Hill plays solo shows at Queen Anne's Revenge, 500 Front St in Beaufort, NC, with music playing from 6-9 pm. On Thursday, August 16, Hill will be solo at Swansboro Yacht Club from 7-10 pm. On August 18, the band return to the patio at Circa 1810 Bar, 221 S Front St. New Bern, NC, with music from 7-11 pm. To keep up with the band visit their website at Adam Hill Music,
If you would like to be featured in Weekend Sessions by Tracey Stones, please email her. For weekly updates please visit Tracey's blog, The North Carolina Music Zone at NCMZ.live.
By Contributing Entertainment Writer, Tracey Stones, Tracey Stones Productions