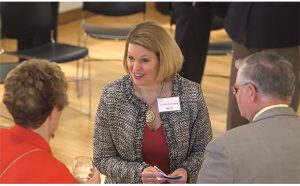 September 5th Summit on Economic Development & Community Redevelopment
New Bern is a city of firsts—home to the first state capital, first convening of the state legislature and the birthplace of Pepsi. It's a vibrant community with a rich cultural and artistic heritage and diverse economy fueled by a spirit of entrepreneurship and volunteerism. But as with all North Carolina cities, New Bern faces challenges and opportunities as it looks to grow its economy and engage all members of its community.
Wednesday, September 5, interested citizens are invited to a lively and informative half-day summit to learn more about what's driven economic and community development in the past, what is happening today to spur economic growth, educational innovation and community development and join the conversation about New Bern's future.
Summit Schedule
8 AM            Registration (complimentary coffee)
8:30 AM       Welcome and Opening Remarks
8:55 AM       Panel Discussion: Economic Development & Community Revitalization
10 AM          Panel Discussion: Education and Workforce Development
11 AM          Panel Discussion: The Impact of Non-Profits & Volunteers for New Bern
11:50 AM     Working Lunch/Table Discussions (boxed lunches provided)
12:25 PM     Report Out of Table Discussions
12:45 PM     Concluding Remarks/Next Steps
1 PM            Summit concludes
Speakers & Panelists
– Brian Sickora, executive director & general manager, Public Media North Carolina
– Travis Mitchell, chief content officer, Public Media North Carolina
– Scott Ralls, PhD, president, Northern Virginia Community College
– Jeff Ruggieri, director of development services, City of New Bern
– Pastor Linster Strayhorn III, senior pastor, United Worship Center
– Dr. Meghan Doyle, superintendent, Craven County Schools
– Dr. Ray Staats, president, Craven Community College
– Mark Meno, head of research & engineering, Fleet Readiness Center East
– Andrea Nix, area director, Boys & Girls Club of the Coastal Plain
– Don Brinkley, board president, Harold H. Bate Foundation
– Pattie Peebles, board chair, Religious Community Services
Panel discussions will include community leaders, special guests, introductory videos and audience Q & A sessions.
Boxed lunches will be provided for attendees.
Free parking is available at the New Bern Riverfront Convention Center and in downtown New Bern.
All citizens are invited to attend; space is limited, and registration is required at UNC.tv/newbernsummit. If you have any questions or would like to register via email or phone, please contact Karen Nowak at 1-877-407-0004.
This event is sponsored by Public Media North Carolina with support from Craven County Community Foundation, an affiliate of North Carolina Community Foundation and CarolinaEast Health System.
Public Media North Carolina is all-in in New Bern on August 25 and from September 4-8! To learn more please visit UNCTV.org/cares.
Submitted by: Rebekah Radisch, Assistant Director Communications, Marketing and Advancement, Public Media North Carolina