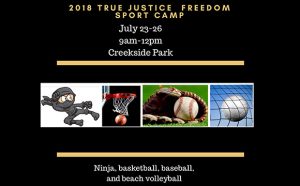 True Justice International's 3rd Annual Freedom Sports Camp is here again!
July 23rd – 26th, Monday – Thursday from 9:00 a.m. – 12:00 p.m.
The four-day summer camp is for all boys and girls, ages 6 and up who will have the option of Ninja classes, basketball, baseball or beach volleyball instruction. Your child can choose up to two sports per day to participate in, or they can stay with the same sport all day.
Water and fruit provided, please feel free to bring a snack.
Proceeds go to provide hope and healing for survivors of human trafficking.
Cost is $45 per participant.
Sign up at Eventbrite or call 252-631-5111.
Submitted by: Sheila Theune, Volunteer with True Justice International