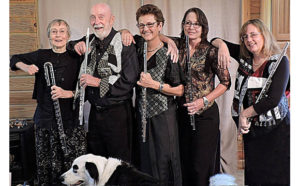 The Pamlico Flutes will once again perform at the Fairfield Harbour Community Center, on Broad Creek Road next to the Fire Station, on Sunday, August 26 at 3 p.m. The concert is free but donations will be accepted.
The Pamlico Flutes brings to you flutists hailing from all directions – New York, Texas, Minnesota, and various parts of New England. Between them, they've been making music for more than 200 years, playing an assortment of flutes, other band & stringed instruments, and piano. Some of their favorite performances (before joining Pamlico Flutes!) include a concert tour through the Soviet Union and Romania, an impromptu fundraiser dance for a Bahamian clinic with fellow musicians/sailors, playing in big bands and in theaters on Cape Cod, playing at Disneyland, and performing Stars and Stripes Forever at Dodgers Stadium. The Pamlico Flutes will entertain you with an eclectic selection of classical, jazz/swing and popular music.
For more information contact Michelle Noevere at 252-617-7405.
Submitted by: Karen Dodd