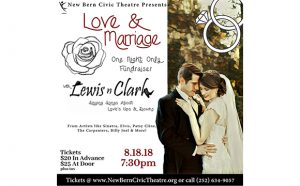 In this one night only fundraising event, Lewis n Clark song selections will explore the ups and downs of dating, the thrill of engagement, marital bliss, and beyond.
Going on two years of marriage, Von Lewis and Abbey Clark are holding on to the honeymoon phase of their own journey, but with the love and support of their wonderful friends and family, they're able to witness every stage of relationships and the emotional ride on which they take us.
With the use of photos and stories from their loved ones, friends and themselves, this charming duo will keep you laughing and reminiscing on your past and present with some of the greatest songs about love and relationships.
Tickets are available at Bit.ly/LnCLoveMarriageTix.
Want to be a part of our NEXT SHOW in August?
If so, send us a favorite picture(s) of you and your sweetie together from ANY AGE or Stage in your relationship! Wedding pic, engagement, vacation, sitting at home, or ANYTHING!
Even Love Letters or HOME VIDEOS!
We will be showcasing these photos, letters, and videos in montage/slide shows of couples in love during our show in August at the New Bern Civic Theatre.
*** Send quality resolution images/scans to our email. Subject: "L&M Sweeties"
***Make sure you put the correct spelling of your names in the email, how long you've been together, and a tiny description of when the photo was taken.
Note: By sending us your photos you allow us to use them for promotion of, and during the showing of our Lewis n Clark show "Love & Marriage"
For more information, visit the New Bern Civic Theatre's website and Facebook page or call 252-633-0567.
Submitted by: Von Lewis, Lewis n Clark Music and Entertainment