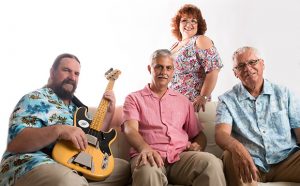 Watch the sun go down while you boogie to the best in vintage Rock & Roll! The Bears bring your favorite songs from the 50's, 60's, and 70's to The Harvey Mansion, Friday July 6. The Bears rock the patio with songs that will have you singing, dancing, and asking for more.
Who are The Bears?
– Janet Montero is "Mama Bear": singing and playing keyboard and bass.
– Steve Latimer is "Baby Bear". Steve sings and plays guitar/guitar-synth.
– Pat Engeman, "Yogi Bear" is the drummer, as well as a singer.
– Simon Spalding is "California Bear", on bass, fiddle, and guitar.
The Harvey Mansion is at 221 South Front Street in New Bern. The music begins at 8 p.m., continuing until 11 p.m. Call 252-635-3232 for more information. To learn more about THE BEARS, check out TheBears.band, or contact Pat Engeman at 678-205-7309.
The Bears will blow your bobby socks off – don't miss this action-packed downtown New Bern show!
Submitted by: Simon Spalding