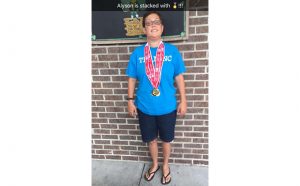 Alyson Sheedy is heading to Seattle to participate in the 2018 USA Special Olympic Summer Games
I am the proud big sister of Alyson Sheedy! She is the young lady from New Bern (Craven County) who is participating in the 2018 USA Special Olympic Summer Games next month!
Alyson will be representing NC in swimming. She is the first participant to be invited from Craven County. Join us tomorrow, June 28, for Alyson's Seattle Bound Party at Creekside Park from 6 to 8 p.m. It will be held at the 1st pavilion.
Our mayor, Dana Outlaw, will be presenting her with a proclamation of honor. We will also have other very important members of our community there! We would love for you to come and show your support! It really means the world to myself and our family! My little sister is my hero and best friend!
Our Sheriff, as well as the Police and Fire Chief will be there or will have cars there to flash lights and sirens!
Alyson has been participating in Special Olympics for approximately 12 years. She has competed in bowling and bocce on the State level. Swimming is her passion! She was also chosen as the Team's Health Ambassador! AND the ARC awarded her with Athlete of the Year! She will be competing in the 50 meter backstroke, the 100 meter freestyle, and a 4 by 25 relay.
For more information, visit: https://www.facebook.com/events/407750423057551/?ti=cl.
Submitted by: Kathryn Sheedy