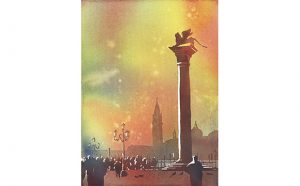 Accomplished Painter and Instructor to Exhibit at Bank of the Arts
July 10 to August 1, 2018
Craven Arts Council & Gallery is proud to present the work of Ryan Fox in the Director's Gallery at Bank of the Arts from July 10th to August 1st, 2018. Fox, an accomplished batik watercolorist based out of Raleigh, has won national acclaim for bold colors and contrast. Craven Arts will host a reception on July 13th, from 5pm to 8pm, during the downtown New Bern Artwalk.
Ryan Fox's work makes use of the batik technique, using wax to seal areas of lighter color as the artist adds darker tones to piece. Traditionally used for fabric, Fox applies it to watercolors allowing him to preserve areas of bright white, yellows, and reds for high contrast and precision not often seen in watercolor.
Ryan is a signature member of the American Watercolor Society, as well as the state societies of Georgia, Illinois, Pennsylvania, Missouri, and North Carolina. He has won numerous awards on the state and national levels and been featured in publications such as the Watercolor Artist Magizine and Splash hardcover books. Fox was the juror of the 2018 Twin Rivers Artists Association Exhibition at Bank of the Arts, and will be holding a workshop on his batik techniques at the Bank of the Arts in late July.
Admission to all galleries at the Bank of the Arts is free and open to the public. The Bank of the Arts is open from 11am to 5pm, Tuesday thru Saturday, with extended hours for Artwalk the second Friday of each month.
For more information please contact Jonathan Burger, Marketing and Gallery Director, Craven Arts Council & Gallery, Inc. at the Bank of the Arts, 317 Middle St., New Bern, 252-638-2577.
Submitted by: Jonathan Burger