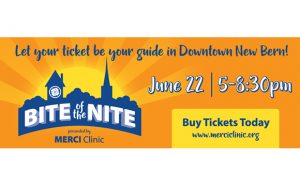 June 22 from 5 – 8:30 p.m.
Let your ticket be your guide as you stroll the beautiful streets of downtown New Bern, listening to the sounds of music while stopping at a variety of restaurants & host businesses to taste a "bite".
At the end f the night you will vote your favorite "Bite of the Nite" and be entered to win a gift card basket from participating restaurants valued at $250! Tickets are $25 and can be purchased until Monday June 18 at 5pm online at MERCIClinic.org or in person at MERCI Clinic at 1315 Tatum Dr. New Bern.
Submitted by: Beth Cooper, Executive Director, MERCI Clinic