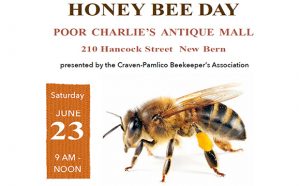 Craven-Pamlico Beekeepers Association presents "Honey Bee Day", on Saturday, June 23 from 9 a.m.to Noon.
It will be held at Poor Charlie's Antique Mall.
– SEE Live Honey Bees in an Observation Hive
– TALK to Beekeepers about this Fascinating Hobby
– LEARN about Honey Bees – Their Benefits and Behavior
– LOCAL Honey for Sale!
– WIN a Honey Bee-Friendly Flowering Plant (Raffle Tickets $1 each – two winners)
Also beekeepers will be available to answer questions about beekeeping and bees.
Submitted by: Karl Koch, Public Relations, Craven-Pamlico Beekeepers Association