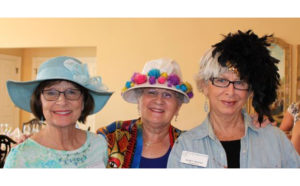 The Coastal Women's Forum Annual Hat Social and Dinner Meeting will be held on Thursday, June 7 at the New Bern Golf and Country Club, from 5:00 to 8:00 PM. Networking and hat-watching will be followed by dinner, games and prizes for the winning hats.
This year's theme is Totally Awesome 80's!" The categories:
– Most Glow Hat  – It's simply the brightest hat ~ Think neon.
– Fuzziest Hat – Think leg warmers.
– Biggest Hair Hat – Truly think big hair, bows, and side ponytails ~ Who can still gain great heights with their hair.
– Like, I Can't Believe I Totally Wore This (and I still have it) –
This event is free for members with all payments current, and $27 for visitors. Reservations must be made by Monday, June 4. register online, or for more information, email the CWF Dinner Coordinator.
To learn more about what Coastal Women's Forum has to offer you, visit CoastalWomensForum.com.
By Contributing Author: Penny Zibula, Travel Writer, Six Legs Will Travel