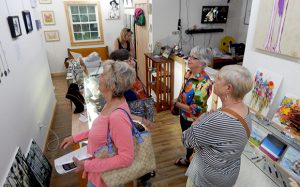 The Sanctuary Gallery will be hosting "Art-B-Cue" on Friday, May 18th from 3 – 8 p.m. This unique and festive gallery opening will feature new work from artists inside the gallery, and local crafts and music outside, as well as a large grill serving up free hot dogs.
Bob Jones will be in the front yard playing guitar, and will be joined by his artist wife Pat Jones. Woodworker Greg Fahy, owner of Hurricane Milling, will be creating his amazing hand crafted tables of oak, pecan and poplar. Elisa Maple will have a table full of her beautiful metal art and jewelry, and Claudina Madrid will have a table with her paintings. Gallery owner and artist Chris Wagner will have a tent filled with tie-dye clothing for sale, as well.
Inside the gallery, new paintings, and sculptures will be available from Raleigh artists Danny Laffey and Ryan Fox, Mebane artist Jude Lobe, New Bern artists Jane Horner, Cynthia Buchanan, Carl Hultman and Chris Wagner. Local jewelers Carolyn Buss, Nan Gilbert and Wendy Johnson also have work available.
The Sanctuary Gallery is open Tues – Sat, 10 a.m. – 5 p.m. and is located at 2601 Trent Road in New Bern.
For more information, please call gallery director Chris Wagner at 571-8562.
Submitted by: Chris Wagner, The Sanctuary Gallery