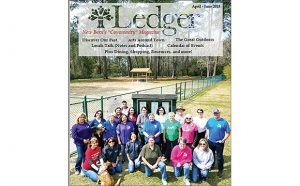 Have you seen the latest Ledger Magazine?
If not, we've changed up the format a bit and feature more articles about the people and places of the greater New Bern area.
You can view it or download it here.
Find out if your event, business, or non-profit is featured!
The Cover was taken at the Down East Dog Park at Glenburnie Park with A Dog's Dream, Crockett's Critter Care, Colonial Capital Humane Society, Lucky Dog Pet Grooming by Sarah, Masterful Dog Training, and Petsense of New Bern. The Feature Article is about making a difference in the lives of pets by adopting, donating, and volunteering.
Inside you'll find information about our town at large, local resources, with features about "Arts Around Town", Discover Our Past", and "The Great Outdoors".
Check out the "Dining and Entertainment", "Shop Local", and "Staying in New Bern" Guide.
We also have a Community Calendar, but since it's printed quarterly, visit our website's Calendar for an up-to-date listing here.
Read articles about our "Social Media Summit", "New Bern Live", "Art at the Airport", "Meet Chef Zovick Jreisat", "Carolina Creations continues to flourish with Virginia Spencer", "Summer Camp", and "Lesson Learned from Greg Smith and Richard Blythe".
If you're looking for local non-profit and business news, you'll find it in the "Community Notes" sections.
Find out how "The Podsquad" can help you promote your efforts on our Podcast and on New Bern's NewsTalk Radio Station 103.9FM and 1450AM.
You'll also find the informative Crystal Coast Discovery Map and you'll learn about Daytrips and local Festivals.
If you haven't seen the Ledger, it's a full size (8 1/2 x 11), 20 page magazine.
It's a community effort as our advertisers, sponsors, and contributors believe in our efforts to promote the Greater New Bern area. We really appreciate your support, as we couldn't publish the print edition without it!
The Ledger magazine's print edition is available at your favorite businesses and non-profits in and around town to include: Downtown, Around Town, Bridgeton, Fairfield Habour, Riverbend, and surrounding communities!
Let us know if you would like to be a distribution place or give us a call to find out where you can get your copy.
Please feel free to share your thoughts and feedback with us, as it's not about us, it's about improving our community at large! We strongly believe that if we don't learn something every day, we're not living"!
Tell us what you think by sending us an email or calling 252-638-6858.
Wendy Card