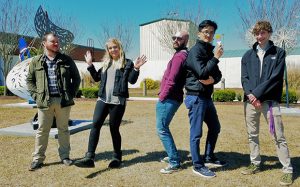 Can you imagine being a young art student and you design a sculpture that's displayed for hundreds of thousands of people to see at the Airport? On top of that, your sculpture was purchased by the Airport or an admirer! Now that would be something to put on a resume.
For the tenth year, students from East Carolina University (ECU) School of Art and Design installed their sculptures at the Airport's Outdoor Sculpture Park.
This event is part of a National "Art in the Airport" program, designed to enhance the travel experience and promote the arts. Each year the students are given the assignment to create a theme of "Flight" and then a jury which included Leigh Ann Cook, Don Fisher, Diane Hancock and Mary McGee met with Art Professor Hanna Jubran to review the models and select sculptures to be created for the show. After the models are selected, the students are given a stipend to help purchase supplies and then a winner is chosen.
During the installation event, Airport Director Andy Shorter, introduced the students, Mairin Gwyn "Freedom Wave", Timothy Rickett "First Class", Nicholas Fowler "Icarus", Joe Han "Uncharted", and Liam Wood "Orbit" and the students were given an opportunity to talk about their sculptures.
These five sculptures will be at the Airport for approximately one year. Each year the Airport buys one of the sculptures. This year "Uncharted" by Joe Han was purchased for $1,500 to become part of their public art collection. The remaining sculptures are for sale and if anyone is interested in purchasing, please call Leigh Ann Cook at 252-638-8591.
Art at the Airport Partners are the Coastal Carolina Regional Airport Authority and East Carolina University Sculpture Program.
For more information, call 252-638-8591 or visit FlyEWN.com.
Please let us know what you think by sending us an email or calling 252-259-6853.
Sign up for the latest updates by submitting your email address in the right margin on New Bern Now's website and you'll receive a daily email at 5 p.m.
Wendy Card