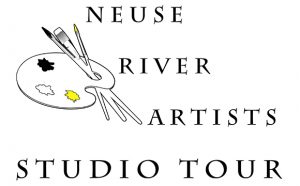 New Event Showcases Artists and their Workspace to Public
May 5 & 6, 2018
Join us for the first Annual Neuse River Artist Studio Tour on May 5th and 6th. This event showcases local artists, their process, and their creative spaces in New Bern and the surrounding area. The tour is self guided and free to attend, with maps provided at each location and various businesses downtown. The tour will take place 10am to 5pm on May 5th and noon to 4pm on May 6th.
The inaugural event of the tour will include more than 47 artists at twenty locations. Several of the locations will feature multiple artists in a shared space, allowing you to meet and see the work of more than one at a time. Artists will be available to demonstrate their techniques, talk to the public, and sell works directly.
The Neuse River Arts Studio Tour is organized by Chris Wagner of the Sanctuary Gallery and operated through Community Artist Gallery & Studio, with support from local businesses, nonprofits, and residents. More information can be found on the Neuse River Studio Tour Facebook page.
For more information please contact: Chris Wagner, Artist, Owner/Operator, 2601-a Trent Rd., (252) 571-8562 or Jonathan Burger, Marketing and Gallery Director, Craven Arts Council & Gallery, Inc. at the Bank of the Arts, 317 Middle St., 252-2577.
Submitted by: Jonathan Burger