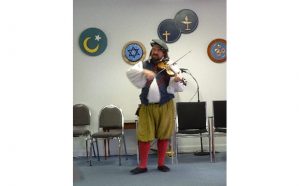 Come relive the days when knighthood was in flower with Medieval and Renaissance Dances, on Saturday, March 24!
The dances will be English and French Dances from the Age of Chivalry, including but not limited to English Country Dances as danced in the Court of Elizabeth I.  All the dances will be taught: no prior experience is required, and you don't need to bring a partner.
Instruction and dance prompting will be provided by Simon Spalding, who will perform on the violin.  Additional musicians from the ensemble "Stella Maris" will also play, on instruments of the period.  Simon has taught historical dancing at Tryon Palace, Renaissance Festivals, and museums throughout two continents; in an English Manor House, a Scottish Castle, and even on a sailing vessel in the North Atlantic!  Dancers are welcome to come in clothing of the Middle Ages and Renaissance; but of course, this is not required.  Bring comfortable clothes, flat shoes, and a smile!  The program is free of charge and open to everyone.
The dance begins at 2:00 p.m. in the library's auditorium. The New Bern-Craven County Library is at 400 Johnson Street, in historic downtown New Bern.  For more information on the event, call 252-638-7800 and ask for Jennifer Daly.
Submitted by: Simon Spalding