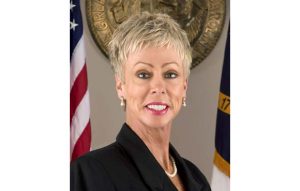 Coastal Women's Forum (CWF) and NC state Auditor, Beth Wood, Team Up to Celebrate Success
April 5 will be a day of celebration for CWF as the organization commemorates three decades of providing New Bern area women with opportunities for networking, education and encouragement. And what better way to mark the occasion than to have a charter member speak at the event. NC State Auditor, Beth Wood, was a CWF member in its early days, and was where many New Bern women are today. She credits her association with the founders of CWF with helping her move forward in her career.
When Beth Met CWF
In 1988, Beth Wood joined a new organization for women based in New Bern. She didn't come from a business background, nor did she know how to dress or act professionally. "When I became a CWF charter member," she recalled, "I knew that here was a group of women who knew how to speak, react and function in the corporate world. Here I could find mentors and listen and learn from business women and understand what their challenges were."
The Road to Raleigh
North Carolina's State Auditor since 2008 describes herself as, a very ordinary person – a farm girl from Route 1, Cove City – who God has allowed to do some extraordinary things.
Born and raised approximately halfway between New Bern and Kinston, Beth chose to stay close to home, attending Wayne Community College to become a dental hygienist.
After 10 years, Beth decided she wanted more from her career., and  returned to her first love, math. Working part-time as a dental hygienist and with the help of Pell grants, Beth put herself through ECU. She graduated with her degree in accounting after two years and one half semester.
Following graduation, Beth worked several corporate jobs in the Kinston and New Bern areas before going to Raleigh to work in state government. She began in the Treasurer's Office, and hated it. "In the corporate world," Beth stated, "everyone knew what a bottom line was. State government was clueless, and after six months, I'd had it."
Not wishing to appear to be a job hopper, Beth stuck it out for two years. Then she heard about a job in the state auditor's office, and applied. She didn't get the job, but Beth had made such a positive impression, a job was created especially for her in the training division.
"I got over there," Beth recalled, "and realized this was the agency that audits our tax dollars. We pay billions in state income tax, sales tax,  corporate tax, and this was where all this money was being audited. This was where decisions were made on how it was spent. I realized here was a place where I could really make a difference."
Beth began looking around at procedures: how audits were being performed, staff was being evaluated, and decided, "we weren't doing a very good job." Over the next 10 years, she rose through the ranks trying to fix things. "I decided if I was State Auditor, this job would be a lot easier, and made the decision to run."
In 2008, Beth Wood became the first woman to be elected as NC State Auditor, and one of a handful with an accounting degree.
Making a Difference
Now in her third term as NC State Auditor, Beth has been responsible for some major housecleaning. She has helped promote significant savings and smart use of taxpayer dollars. As a result of her tireless efforts on behalf of North Carolina taxpayers, audits have identified millions of dollars in potential savings. And, as she promised during her election campaign, Beth has taken the politics out of the State Auditor's Office. "This should be a nonpartisan organization," she emphasized. "When you find wasteful and abusive spending, you should report it no matter from which side of the aisle it comes."
Beth Wood hasn't forgotten her early CWF meetings. "I watched these successful women, how they acted, what they did, and tried to emulate them. At that time, I wasn't a leader. I was a follower. And I thank God for those women who pulled it together. It'll be great to come home and speak to this group of women."
By Contributing Author: Penny Zibula, Six Legs Will Travel