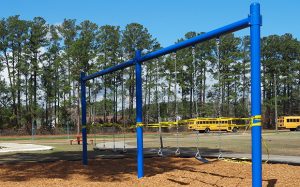 Swings are among the most popular playground components. Research demonstrates that swings have therapeutic benefits and help develop physical (pumping, rhythm, balance, etc.), social (sharing, cooperation, relaxation) and cognitive skills (imagination, mental representation, problem solving). Arthur W. Edwards Elementary (AWE) was recently awarded $4,996 as a grant recipient for The Bate Foundation Individual School Grant Program, as administered through PIE, to purchase swings and enhance the playground which serves fourth and fifth grade students, with a second set to be added soon for the second and third grade students.
This grant focuses on Arts, Music, Health and Fitness, and Athletics.  PIE accepts the grants from Craven County Schools principals, reviews and awards the grants with a committee from the Bate Foundation and evaluates the deployment of the grants.  Kathy Leffler, principal at AWE applied, and was awarded, the grant for the playground
The Parent Teacher Association (PTA) has been working for several years to replace the school's playground equipment, most of which is over fifty (50) years old.  While the PTA has made progress, additional funds were sought to move the project along quicker.  The goal is to have the equipment purchased and installed prior to the end of the FY 17-18 school year.  Principal Kathy Leffler is very pleased to see this project come to fruition.  The swings were just installed on February 20, 2018.  They are looking forward to being able to purchase additional play equipment.
Congratulations to Kathy Leffler and the students at Arthur W. Edwards Elementary School!
For information on Partners in Education, the local education foundation for Craven County Schools, contact Executive Director Darlene Brown via email or visit the PIE website at CravenPartners.com.
Submitted by: Darlene Brown, Craven Partners In Education