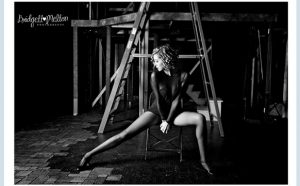 Chicago, The Musical is in town at the Historic Masonic Theatre, Rivertowne Players, at 514 Hancock St., New Bern.
It's now the #1 longest-running American musical in Broadway history. Directed by Derek Jordan, Musical Director by Anne Marie Skogsbakken and Produced by Nancy Hitchcock, CHICAGO is pure entertainment! With a legendary book by Fred Ebb and Bob Fosse, music by John Kander and lyrics by Fred Ebb. Show Dates are February 23, 24 and March 2, 3, 9, 10 at 7:30 p.m.; February 25 and March 4 at 3 p.m.
Set amidst the razzle-dazzle decadence of the 1920's, Chicago is the story of Roxie Hart, a housewife and nightclub dancer who maliciously murders her on-the-side lover after he threatens to walk out on her. Desperate to avoid conviction, she dupes the public, the media and her rival cellmate, Velma Kelly, by hiring Chicago's slickest criminal lawyer, Billy Flynn, to transform her malicious crime into a barrage of sensational headlines, the likes of which might just as easily be ripped from today's tabloids.
Chicago is the winner of six Tony Awards including Best Musical Revival, the Grammy Award for Best Musical Cast Recording, and two Olivier Awards. Now's your moment! Seen it before and want to recapture the magic? Chicago always delivers!
Characters include:
Roxie Hart (Kelli Billingsley): As pretty as she is self-centered, Roxie Hart's unrelenting search of fame and glory forms the spine of "Chicago". Not very bright and never thinking about the consequences of her actions, Roxie makes bad decisions throughout the show – all in the name of public recognition. Her wannabe vaudeville mindset lasts throughout the entire show. Despite being a generally dislikable character, Roxie remains strangely sympathetic to the audience because we understand that her selfishness isn't malevolent. Rather it is immaturity that propels Roxie's fall from integrity. Above all, Roxie Hart embodies the corruption that fame can bestow upon a person.
Velma Kelly (Amanda Pumphrey): Tough, sexy, and sarcastic, Velma Kelly is a vaudeville performer who resides in Cook County Jail after she murdered her cheating husband and sister. Used to being the "main attraction", Velma fiercely competes with up and coming rival superstar Roxie for the attention of the press and to preserve her celebrity status
Billy Flynn (Jeff Bashford): Suave, educated, and very manipulative, Billy Flynn is a lawyer who makes celebrities of his clients in order to gain them sympathy from the media and sway the public's opinion – a perk that Roxie tries to take advantage of. Both Velma and Roxie hire Flynn to represent their cases and use him as their claim to fame. With a perfect track record under his belt and good looks and charm to boot, Billy will take on any case as long as it means putting money in his pocket.
Matron "Mama" Morton (Jennifer Cook): The tough, sassy warden of the Cook County Jail, "Mama" treats the inmates under her watch like family and would do anything for them – so long as she gets something else in return. "Reciprocity" is her motto. "Mama's" philosophy represents much of what is wrong with the justice system.
Amos Hart (George Oliver): An auto mechanic and the hapless husband of Roxie, Amos, though not very good looking and not very smart, is a lovable and good-natured man. He is the only character in the show whose motives are pure of heart and never selfish. Despite this, he's also the only character who really loses out in the end. A victim of his own innocence, Amos represents the average man who pushes hard to do the right thing, but never gets any recognition for it.
Mary Sunshine (Bethany Bonderant): A sappy, soppy tabloid columnist who relies more on emotion than thought when it comes to writing her stories, Mary Sunshine is a person who believes that no matter what horrible atrocities a person has committed, somehow there must be a little bit of good in them.
Submitted by: Nancy Hitchcock, RiverTowne Players